If your kids are picky eaters like mine, it can be a challenge to find snacks that they like and that are healthy. My fail safe snack is fresh fruit - all of my boys love it. The older 3 that are in school half days get a fruit salad sent in for snack time every day. But obviously they can't eat fruit all day long so I had to come up with some other ideas.

This week over at the Easy Organic Living community we are moving on to our second challenge: invent a healthy snack. So I have decided to share a snack that I have been using for a few years now. Three of my four boys love it so its a win in my book.


Cheesy Bean Quesadillas
Ingredients
Whole wheat tortillas
Refried Beans
Shredded Mexican cheese blend
Please note that I used a quesadilla maker for this but you could also do this in a skillet on your stove.
1. Place one tortilla on the machine. Spoon on a thin layer of refried beans, of with a generous amount of shredded cheese then place a second tortilla on top.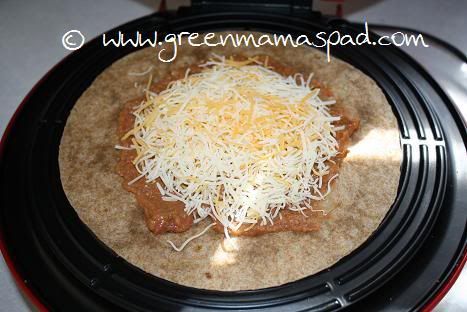 2. Close the lid and let it cook for 2-3 minutes. Usually when I hear it start to sizzle that means the cheese has fully melted and is reaching the edge, so I take it out. You want it to be a little crispy but not burnt. :)
3. Transfer to a plate and use a pizza cuter to slice into 6 triangles. Let cool for a few minutes, the inside is VERY hot.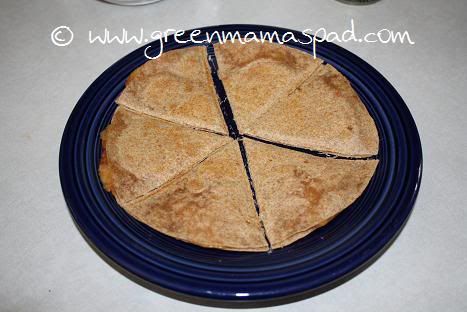 EXTRAS
Serve with several dipping cups filled with salsa, sour cream and guacamole. If you think you can get away with it, you might want to try hiding some veggies in between the beans and cheese, like Kale flakes.
I am participating in the Easy Organic Living Blogger Challenge however I was not compensated for this post. I will be receiving a goody bag for my participation. The challenge is co-hosted by BabyCenter.com and Healthy Child Healthy World and sponsored by Stonyfield Yogurt.