Yoga is always something I have been interested in but never really learned to do. My only experience with yoga is my few attempts with our Wii Fit, and it was quite pathetic. Always in search of some rainy day activities to keep both myself and the boys moving, the Storyland Yoga DVD by Playful Planet caught my attention.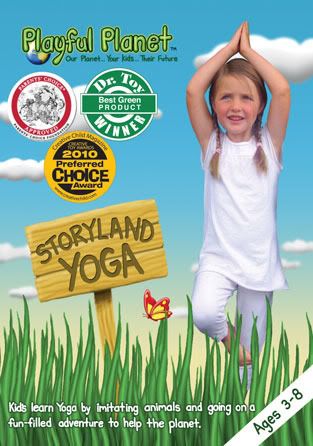 "A wonderful way for families to enjoy "organic" time together, the video connects kids and nature while providing them with the benefits of yoga: health, clarity, and calmness."
I really liked the idea of yoga for kids because it would be something that I could do with my children plus it would be easy for me as well since I am yoga challenged.
Storyland Yoga
also has an environmental aspect about it as it teaches about endangered animals. There are two stories to choose from, Condor Trek and Save the Whale, and in these adventures children do easy yoga poses while helping the animals.
My boys were very excited to give this a try. We cleaned up the toys in the family room and got to it. First we did the Save the Whale story. Yoga instructor Ahmed Fahmy is setup on a beautiful beach and he leads you on an adventure to save a beached whale. My kids had a blast paddling on their imaginary surfboards, avoiding sharks and eventually pushing the whale back into the ocean. There was a whole lot of giggling coming from the 3 year old so I knew he was having a good time. When it was over, they asked to do the second story as well, Condor Trek. In this story, Fahmy takes you on an adventure through the forest to return some lost Condor eggs to their mother. Along the way you meet up with a wolf, bear and other forest animals.
Riding bicycles during the Condor Trek.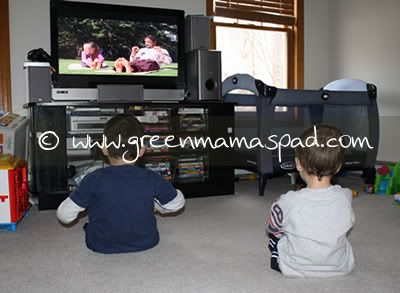 Stretching.
Now my youngest is only 15 months so he didn't participate, but my 6 year old and 3 year olds loved it. Every day since we first did this they have asked me to do it again. I think it is the perfect activity for days when the weather keeps you in the house. Because it is fun and relaxing with some exercise mixed in, it can also be something you incorporate into your daily routines. This is definitely a big hit in our house.
Storyland Yoga is recommended for children 3 - 8. It is also fun for parents to get down on the floor and participate with their kids.
Shop
The Playful Planet Storyland Yoga DVD is available at Amazon.com for $14.99
.
Please note that the opinions and views expressed in this review are my own and based on my personal experience with the product and/or company. You may encounter a different experience with this than I did. I received a copy of the DVD for review. This post contains affiliate links.