Since my twins, L & J, were 15 months old they have been receiving both speech and occupational therapy. So for 1.5 years we had therapists coming to our home to work with them. Then in September 2010 they started attending our town's preschool program. The program is a mixture of peer model students and special needs students and they qualified based on their developmental delays. I am amazed at the progress they have made these passed 5 months. While they certainly progressed with home therapy, albeit slowly, being in an environment with their peers 4 days a week has done wonders. Combine that with the great teachers and therapy they are receiving weekly there, its been quite a transformation. L is talking in full sentences now and J, though still slightly behind him, is starting to put phrases together. We are thrilled.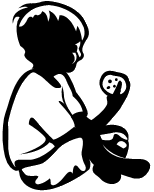 At our parent-teacher conferences in November I brought up some concerns I had about J and asked for a physical therapy evaluation. My concern was and is that at 3.5 years old he still cannot jump. At all. He also has balance issues and it appeared to me that he lacked some leg strength. They decided that they would have both boys evaluated in December and January and then we would have meeting n January to discuss the findings and revise the IEP if necessary. Thanks to the gazillion snow storms and school cancellations we were hit with, we wound up having to cancel the meeting 3 times. Finally we decided that the teachers and therapist would have it without me and then they would mail me the revised IEPs. I was totally fine with this since I was the one who requested the evluations.

So a few days after they have the meeting I receive the evaluations and new IEPs in the mail. I knew that at least J would qualify but L qualified too. And while I obviously knew that J had some issues in this area, I was not prepared to read those finding in black and white. The evaluation shows that he has low muscle tone, particularly in his legs and trunk. OK, I anticipated something like this. But it was the numbers that threw me. He scored extremely low on everything and in the end is in the 7th percentile. So 93% of children his age are ahead of where he is. Way ahead. That hit me hard. I cried for days wondering what I did wrong and thinking that I somehow failed him. That I am a crappy mother.

So now I am on a mission to help him strengthen his muscles and body to get him where he needs to be. I want him to be able to run and jump with his brothers and other children. To be active and healthy and able to play sports some day if he chooses to. My problem is I don't really know what to do. I have been working with him on the stairs these past few weeks and I definitely see improvement. Instead of using his hands on the stairs for support I have him walk up straight and make him use his legs.It is hard for him, but I can see each time he is improving slightly. And that at east gives me something to hold on to.

Now I am in research mode and trying to find information and exercises I can do with him. If you have experience with low muscle tone in a child, I'd love to hear from you. How did you work through it and help your child improve? Are there any good online resources out there that I may have missed?