As more and more electric cars start hitting the market and hopefully the roads, the need for electric vehicle (EV) charging stations will grow. Though there are not that many registered electric cars here in Connecticut, as of December 2010 there were only 24, there are already some public charging stations available with many more planned. In 2009, former Governor Jodi instituted the Electric Vehicle Infrastructure Council and one of the council's goals is to get EV charging stations installed.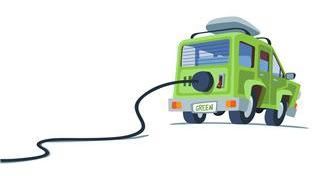 I am still not sure
how I feel about electric cars
since traditional electricity still uses oil. I would without a doubt be 100% for them and ecstatic if these stations were all solar powered. All of the existing ones in Connecticut are not, but let's hope that many of the new ones will be.
Here is a list of current EV charging stations located in Connecticut. I will update as new station open up.
Charging Levels:
Level I = 120V
Level II = 240V
Berlin
Northeast Utilities
107 Selden St
Level II / 2 stations
Limited public use, by appointment (860-665-5900)
Free
Darien
Whole Foods Market
150 Ledge Road
Level I / 2 stations
Public / Free
Open to customers during store hours
Hartford
Northeast Utilities
56 Prospect St
Level II / 2 stations
Limited public use, by appointment (860-728-4600)
Free
New Haven
Propark America Garage
260 Crown Street
Level I / 1 station
Pay to use parking facility, free charging
Norwalk
Maritime Garage
Level II / 2 stations
Public
South Norwalk Train Station
Level II / 2 stations
Public
Yankee Doodle Garage
Level II / 2 stations
Public
Plainville
GE
41 Woodford Ave
Level II / 3 stations