Having three little boys is like having three mini tornadoes in your home. They run around, yell, fight, wrestle and in general destroy everything in their path. Getting them to sit still for more than a minute can be close to impossible. Unless of course there is food involved. One thing that I have found to help is having a kid size table set up somewhere for them so that they have a place to color or do crafts and to snack. We used to have a Little Tikes plastic picnic table set up for them in the dining room, but it honestly did not look the greatest and could not seat the three of them comfortably.

When I first saw the Anka Mini Furniture set I knew that this would work so much better for us.
This set is crafted from sustainable wood and the wood stain is lead free. Included is a sturdy round table and 4 seats. There are 3 chairs and then one stool for parents to sit on. The stool can hold someone up to 250 pounds. You can also choose from three finishes: Natural, Honey and Espresso.


"Anka Mini Furniture is built to host a lifetime of tea parties, coloring marathons and games. But it's not just for children. It also provides a place for parents to join in and create lasting memories. Crafted of high-quality birch wood, Anka Mini Furniture stands up to year after year of children's play. And it's sturdy and stylish enough to pass down from generation to generation."
I was fortunate enough to receive one of these sets to review. I chose the Honey finish because it goes well with the wood trim and floors in my home. You do have to assemble this furniture yourself but that should not be an issue. I had planned on taking some pictures of the assembly process, but my dear husband put it together in the garage without me even realizing it. But I can report back what he told me. He did say it was fairly easy to assemble and he didn't run into any problems. You are given a small tool to get the screws in, but my power tool loving husband broke out his electric drill instead.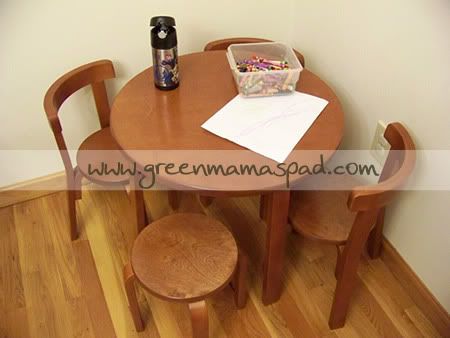 We set the furniture up in the corner of our dining room, where the old table previously was. It looks so nice there, doesn't it? When the boys first saw it, the were very excited and sat right down. All 3 of them fit nicely at this table and there is plenty of room for a 4th child or an adult. On its first day in our house, the Anka Mini Furniture got put to the test when the twins speech therapist came for their weekly session. The adult stool worked fantastic for this as she was able to have the boys sit at the table and then she sat on the stool and worked right there with them. It definitely made it easier for her. And yes, this large pregnant mama is even able to sit on the stool if needed.
The functionality of this table and chairs set has been great thus far. In addition to speech therapy sessions, the boys eat their snacks there or do some coloring. The twins even just like to sit in the chairs and hang out there with some toys. And what is truly great about this furniture is the quality and sturdiness. I have had cheap "wood" table sets before that did not survive but I know that will not happen with Anka. This is a furniture set that is built to last and I look forward to my kids enjoying it for many years to come.
Shop
You can purchase the Anka Mini Furniture set directly from
Scandinavian Child
or through online retailers such as
Amazon.com
.
Want to win one?
The Shopping Mama
has a giveaway going on right now for an Anka Mini Furniture set. Hurry, it ends December 4th!
Please note that the opinions and views expressed in this review are my own and based on my personal experience with the product. You may encounter a different experience with this than I did. Scandinavian Child provided me with an item for review however this had no effect on how I reviewed the product.