I have never been an outdoorsy kind of girl. I don't like bugs and I don't like dirt. However, I am really trying to make an effort to get the boys outside more this year. And lets face it, boys love all of those things that I hate.

Last week Connecticut got a lot of rain. Combined with melting snow, rivers and streams were overflowing. When the rain had passed and I stepped outside, I could hear the sound of rushing water. I knew there was a small brook in the woods behind our property that leads to the reservoir. So I thought it would be great if we took the boys on a hike out there one day to see it before the water subsided.

On Saturday while Grammy and Papa watched the little guy, my husband and I brought the other 3 out. I would NEVER do something like this without him. After walking for a little bit we came to a ravine and at the bottom is the stream. It is a big drop and it scares the crap out of me. This picture doesn't do it justice.

Note: click on images for large size.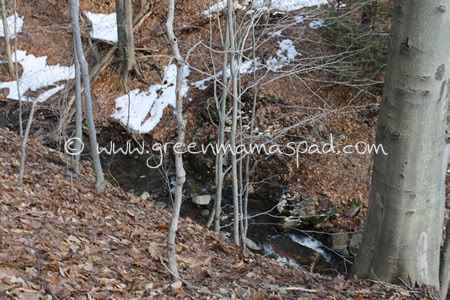 We walked to where the incline was manageable for kids and made our way down to the water. The boys were so excited. It was so awesome watching their faces as we explored out there. When we got down to the water's edge we were near the delta; where the stream opens up to the reservoir.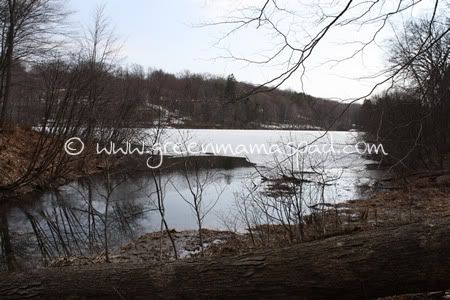 Right away we noticed some animal prints in the mud. The 6 year old quickly pointed out that they were deer tracks.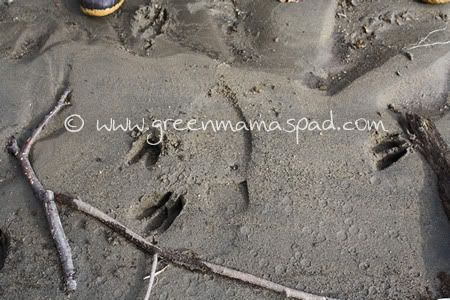 Then we started to make our way up stream.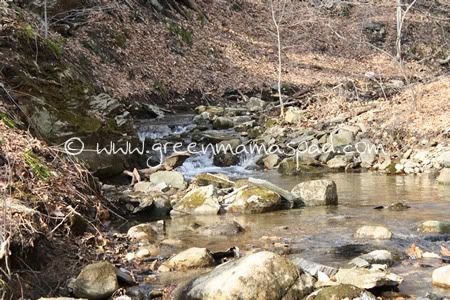 Finally daddy helped us all out onto the rocks so we could get a closer look at the waterfall here and the deeper pool it goes into. I would guess it was at least a foot deep. That might not sound like a lot but in the summer this stream dries up into a trickle.
A very quick video of the stream taken with my iPhone. I love the sound of the water rolling over the rocks. So calming. You can hear some excited little voices in there too.
Then we headed back to the house. Going up hill with the kids was a lot more work than coming down hill was. All in all it was an AMAZING day. I cannot remember the last time I had so much fun outside and the boys absolutely loved it. I hope to keep this up as the year goes on. Of course now I am also a little bit paranoid about the huge cliff behind our property. I had no idea that was there.
Do you ever go exploring or hiking in the woods with your kids? Have you made any cool discoveries?