I did not do a "Getting Dirty" update last Thursday because there was really nothing to update on. So now that it has been 2 weeks since I last shared photos of my veggie seedlings, you'll notice that some have gotten considerably bigger. Most noticeably the zucchini, which are in the 2 far left columns. The cucumber, the next 2 columns, are right behind them.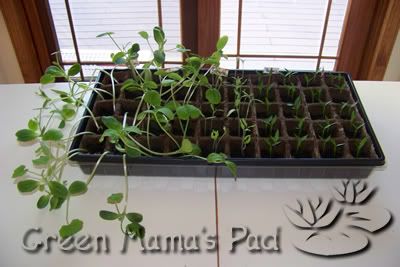 Seriously, they are starting to take over my table and are annoying my husband. I want to move them outside but (A) we are still having super cold nights here in New England so I'm afraid they won't survive outside yet and (B) I still haven't determined where exactly I am planting them. Yes, I am a procrastinator. So that is something I will have to figure out within the next week. It would be nice if next week I could have pictures of them in the ground.
Just to refresh your memory (and mine), here is what they looked like back on March 26. That was one week after I planted them. I can't believe how much they have grown in less than a month!