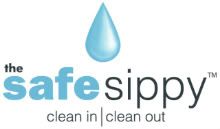 In the last few years there has been a lot of talk about the dangers of chemicals found in plastic baby bottles and sippy cups. The most talked about is Bisphenol-A (BPA) but there are others to avoid as well like DEHA and Phthalates. BPA is a synthetic estrogen used to harden polycarbonate plastics. Some of the risks associated with BPA include prostate and breast cancer, testicular abnormalities in boys and puberty in girls younger than eight years old. DEHA is linked to negative effects on the liver, kidney, spleen, bone formation and weight. Phthalates have been linked to liver cancer and kidney damage in some animals. They also damage rodent reproductive systems and there is concern that they do the same to human infant boys.

I decided that the best thing to do for my boys was to switch to stainless steel sippy cups. We do still have some BPA-free plastic cups, but I'm trying to gradually phase those out as who knows what bad chemical will be found in them tomorrow. So I was very excited when Kid Basix sent me The Safe Sippy to try out.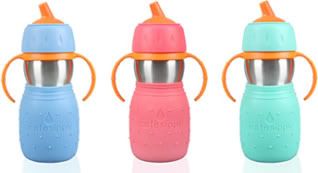 The body of The Safe Sippy is made from stainless steel and holds 11 oz of liquid. Why stainless steel? Because it does not interact with the foods and fluids it comes into contact with like plastic does. There are no chemicals in the stainless steel so no chemical can leach into the beverages. You will find some plastic in this cup on the cap, spout, handle and sleeve. However all of the plastics are certified BPA, DEHA and phthalates free. The handle makes it easy for little hands to hold and comes off when no longer needed. There is a sleeve to keep drinks cold and protect the cup.

Here is something I had no idea about. The spout on The Safe Sippy is shaped like a straw because traditional wide spouts that are on many sippy cups have been found by experts to cause speech development problems. With my 2 year old twins both in speech therapy, I'm taking that point very seriously. I just wish I had found that out sooner.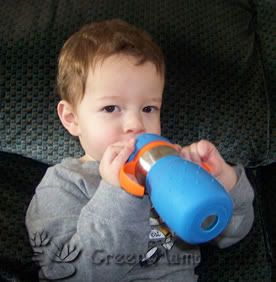 So how did it test out? I decided to let Josh try this cup. No particular reason, just a random choice. But I knew I had to choose just one because attempting to let them both try it would lead to fighting over who it belongs to. The first thing I noticed about this cup is the weight. I have another stainless steel sippy cup that I think is really heavy. The Safe Sippy feels so much lighter than that and yet it holds about 2 more ounces. It also seemed like the liquid flowed much easier through the spout. When they use other cups it sounds like they have to suck really hard to get the drink out. That was definitely not the case here.

How does it do with leaking? Well as the company states, The Safe Sippy is spill proof but cannot be 100% drip proof otherwise it would be hard for children to drink from it. Now that doesn't mean this cup is always leaking. The only time it leaked for me is when Josh was holding it upside down and shaking it. He does this with all his cups and they all leak. The Safe Sippy is also easy to clean. While most parts can be washed in the dishwasher (except for the valve), I prefer to wash my cups by hand. What's nice is there aren't a bunch of pieces to take apart and clean, which is another complaint I have for the other stainless steel cup we have.

Overall, I am extremely pleased with The Safe Sippy. Josh loved having a new cup and I loved all the nifty features. Most importantly I love that it is free from harmful chemicals. I plan on purchasing another one for Luke so they each have one and I can finally toss the few plastic cups that we have left.

Win
One lucky reader will win not one, not two, but THREE of The Safe Sippy!! One of each color: pink, green and blue.

***GIVEAWAY CLOSED***

Mandatory Entry
Visit The Safe Sippy site then come back and comment with something you learned that I did not mention here. Please remember that this is mandatory and you must complete this before submitting any extra entries.

Extra Entries (please leave a separate comment for each)
- Follow me on Blogger or subscribe to my RSS feed
- Subscribe via e-mail. Your email must validate or it will not count.
- Blog about this giveaway with a link to Green Mama's Pad and The Safe Sippy. Please leave link in comment.
- Add my Green Mama's Pad button to your sidebar or add Green Mama's Pad to your blogroll.
- Add my Earth Day Blog Party button to your sidebar. This gets you TWO entries, so leave two comments.
- Follow me on Twitter and tweet this giveaway. Leave link to tweet in comment.
- Fave me on Technorati and comment with your ID.
- Stumble this and comment with your ID.
- Become a fan on Facebook.

This giveaway is open to US Residents 18+ only and will end on Thursday, May 7th at 11:59pm EST. One winner will be chosen at random using Random.org. Winner has 48 hours to claim their prize otherwise a new winner will be picked. You must leave your e-mail address in your comment(s) so I can contact you. I will not share your e-mail address with anyone, it will strictly be used to notify you if you win. Good luck!