Since we are talking about waste-free lunches this week, I thought it would also be a good time to take a look at reusable water bottles. We all spend way too much money for bottled water when we can get water at home for free and with no waste! EarthLust recently sent me one of their 20 oz stainless steel bottles to test. What you will first notice about their bottles is that they come in so many cool designs. You don't have to settle for just a plain stainless finish anymore, unless you want to of course. I picked the Poppy design (pictured far left) because I liked the blues and greens. But there are lots of other great ones. I also like the Butterfly design.

The EarthLust bottles also come in 3 sizes: 13 oz, 20 oz and 1 Liter. They are made from high quality #304 food grade stainless steel, which is naturally safe unlined and all paints used are non-toxic. I love that these bottles come with a carabineer clip which is really handy, especially when pushing a packed stroller. Two weekends ago we took the boys to the zoo (what a rough day). The twins are in a side by side double stroller which I love, but it is short on cup holders. There are only 2, which I was using for their cups, so I used the clip to hang my EarthLust bottle from the back of the stroller.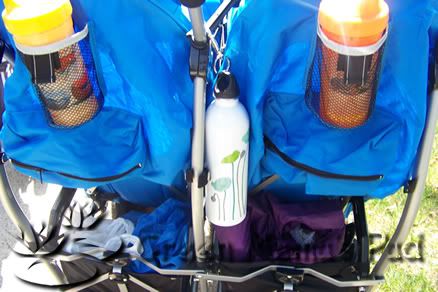 There it is hanging out and looking cute! That was a long and hot day and I was so glad I had that water with me. One last thing i want to mention is the bottle opening. I have other bottles with extra wide openings that make it easier to get ice in. The problem I have with those is that the opening is wider than my mouth and I often spill some water. (Or maybe I'm just clumsy?) The opening on the EarthLust was better fit for my mouth and so I didn't have any spillage issues.

Remember that when we talk about waste-free lunches, we are not just talking about our kids. Many of us also pack our own lunches for work or outings. Skip the bottled water and get yourself a nice stainless steel bottle like EarthLust. It will more than pay for itself as far as saving you money since you wont have to buy water and by helping save the planet from plastic waste.