OK, I know that no one likes to talk about their period. Let's be honest, it is not a very fun topic for discussion. But its a part of life, right? All this week I have been talking about cloth diapers. What about cloth menstrual pads? Now now, don't write them off just yet! There was a time, less than a year back, that I thought the idea of them was gross. Then I'd say about 9 months or so ago, I decided it was time to give them a try. And you know what? I wish I had made the switch sooner.

Why should you give cloth pads a try? Consider this:

Over 14 billion disposable pads, tampons and applicators make their way into North American landfills every year.
Disposable pads and tampons contain a bunch of chemicals which are easily absorbed into your body and can cause discomfort and irritation. And tampons are associated with Toxic Shock Syndrome.
As opposed to plastic, cotton allows your skin to breathe and reduces the chance of skin irritation and infection.
While cloth will cost more up front, you will save money in the long run.
Now let me tell you about
Lunapads
. Lunapads International is based in Vancouver, Canada and was founded by Madeleine Shaw in 1994. Madeleine realized she needed something to solve her own health concerns about using disposable pads and tampons. The Lunapads mission is "
to help women have healthier and more positive experiences of their menstrual cycles, and by extension, their bodies overall.
"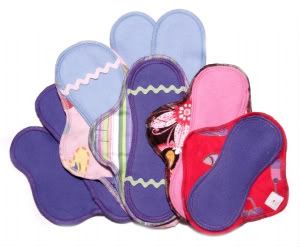 I was so excited when Lunapads sent me a free
Pads & Pantyliners Intro Kit
to test out. The cloth pads that I've used in the past are made like an envelope. You insert the liners
inside
the pad and then snap them around your panties. When it's time for a change, you have to change both the liners and the pad. This is where Lunapads stands out. Their liners
sit on top
of your pad, held on with 2 ric rac bands. So all you have to do is change the liner and not the whole pad. Here is a short video that shows you just how easy they are to use.
See how easy it is? I also love how comfortable these cloth pads are. It is so much better having cloth up against your skin than sticky plastic. Bleh! I tested these out during the day and they were awesome. I had no leaking issues and the ric rac bands held the liners in place with no issue. I didn't try them at night because I'm a little neurotic about nighttime leaking. So I stuck with my overnight cloth pad that I already have. But Lunapads does make a
long pad
that would be perfect for me when I'm sleeping, so I'll need to get some of those! I also love the fun and funky patterns they come in. Your period can be stylish now!
Are you wondering how to care and wash these? It's not as difficult as you may think. Here is how Lunapads suggests you wash your pads and liners:
Soak or rinse Lunapads in cold water prior to putting them in the washing machine with your regular detergent. Some women add a cleaning agent (such as tea tree oil, Dr. Bronner's soap, Oxo Bright, or just their regular laundry soap, to name a few) in the soaking process, but this is optional. You can wash them in warm water with your towels and sheets if you don't want to run a separate load – they may also be washed by hand and air-dried. They will shrink somewhat if you put them in the dryer, as they are made from cotton, but it makes them nice and soft!
This is actually almost exactly is how I wash my Lunapads and other cloth pads. In between washes, I will soak them in a container of water with some Oxi-Clean. Just be sure to change the water at least once a day. Otherwise bacteria can grow and it will get smelly. When I have enough laundry built up, I wash them with our towels in warm water. You can throw them in the dryer, but I prefer to line dry them.
So go ahead, take the plunge. Give cloth pads a try! I truly think you will find the cloth pads are far superior to disposables.

Shop
Spend $35 or more at Lunapads.com and receive $5 off your order. Use promo code
greenmamaspad
. This code is valid through December 31, 2009.
Win
Lunapads
has generously offered to give one lucky reader a
Sampler Pack
. This is a great pack to get you started with cloth pads or to help build your supply.
**GIVEAWAY CLOSED**
This giveaway is open to US Residents 18+ only and will end on Friday, May 1st at 11:59pm EST. One winner will be chosen at random using Random.org. Winner has 48 hours to claim their prize otherwise a new winner will be picked. You must leave your e-mail address in your comment(s) so I can contact you. I will not share your e-mail address with anyone, it will strictly be used to notify you if you win. Good luck!

This review is based on my opinions and my experiences only. Every woman's body and cycle is different and therefor your experiences may differ from mine.