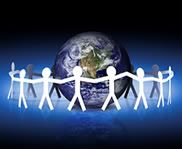 That's less than a week away - next Wednesday! Are you doing anything special to celebrate Earth Day? Any local town events or maybe just planting something in your own yard? I have absolutely no idea what we are doing but I want to do something. There is a zoo not too far from here that is having a "Party for the Planet" this weekend, so maybe we can head over to that.

If you are looking for an event in your area check out your town and state websites to see if they have anything posted there. I found some local events in the April edition of our local Natural Awakenings magazine.

Here are some good Online Earth Day resources that I found:

Earth Day Network - You can search by zip code for something close to you. Earth Day Network also has resources to help you organize your own Earth Day Event. Visit their "Earth Day in a Box" page for everything you need to get started and get involved.

Earth911.com - You can make a pledge to start composting, reduce trash or recycle at work. Even get tips on how to start your own recycling program.

EPA.gov - Also lists events in your state (I found more here than on other sites). Green tips and stuff for kids.

EPA Earth Day Photo Contest - Anyone over the age of 18 can enter; that means anyone form any county. The deadline for photo submissions is April 30, so go check it out now.
EarthDay.gov - List of volunteer opportunities.

World Wildlife Federation - Ideas and tips for change. Widgets and images for your website.