"In order to highlight the growing need for concern and awareness about autism, Autism Society of America has been celebrating National Autism Awareness Month since the 1970s. The United States recognizes April as a special opportunity for everyone to educate the public about autism and issues within the autism community."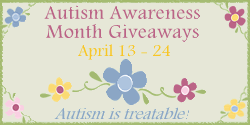 In honor of this special month, Maryann over at
Matthew's Puzzle
is having a week of giveaways from April 13 through 24. Maryann is an awesome mom of 2 boys. Her oldest, Matthew, has Pervasive Developmental Disorder which is part of the Autism Spectrum. I've known her for some time now and I have watched her do amazing things to help her son. Including being on a strict gluten free and casein (GFCF) free diet. So head on over to Mathew's Puzzle to see the cool giveaways she has put together for this week and help her spread the word that
Autism Is Treatable
!