A few weekends ago my mom and I brought all four boys to the mall for some shoe shopping. I packed them all some healthy lunches but did not pack anything for myself. Since I was in the mood for a Starbucks iced coffee I decided I would try one of their sandwiches for lunch. I picked their Tarragon Chicken Salad Sandwich and let me tell you - best.chicken.salad.ever. I was floored by how yummy it was! What really made it great for me was the dried cranberries. After I make a roasted chicken one of my favorite things to do with the leftovers is make chicken salad. Well after having this I knew I was going to have to try and duplicate it - it was that good.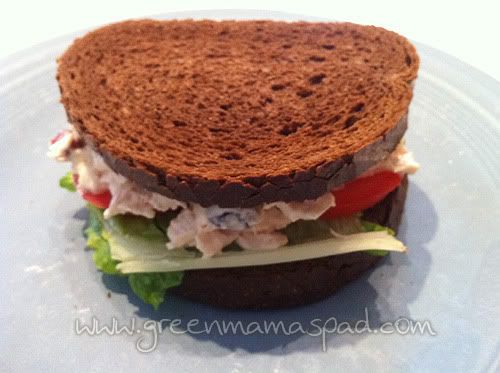 Now I don't know the first thing about cooking with most spices and I can't remember the last time I used tarragon. Hoping that there might be a chicken salad recipe in there to help, I broke out my
Better Homes & Gardens New Cookbook
(mine is the 12th edition). Lucky for me the recipe they had in there included tarragon so now at least I knew how much to use. So I used that recipe as my base and added in some of the Starbucks ingredients and the end was result was one pretty darn good copycat chicken salad!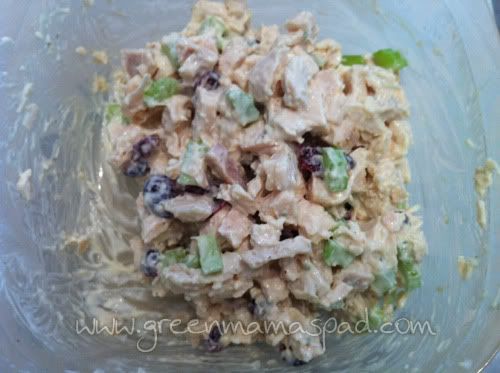 Copycat Recipe: Starbucks Tarragon Chicken Salad
Adapted from the Better Homes & Gardens New Cookbook and Starbucks
Ingredients
Use organic whenever possible
1½ cups chopped cooked chicken
1 celery stalk, chopped
¼ cup dried, sweetened cranberries
⅓ cup mayonnaise (I like mine extra creamy so I used a little bit more)
¼ teaspoon dried tarragon, crushed or 1 teaspoon fresh tarragon
salt to taste
Directions
1. In a bowl mix together chicken, celery and cranberries.
2. In a separate bowl, mix together mayonnaise and tarragon. You may add some salt if you like. The BH&G recipe called for ¼ teaspoon which was way too much for me. I think a dash or two would suffice.
3. Pour dressing over chicken mixture and mix well until coated.
4. Chill it if you'd like, but I always make a sandwich right away.
5. Lightly toast your favorite bread (I used pumpernickel), and fill it with lettuce, tomato and a few heaping spoonfuls of the chicken salad. Delicious!