Yesterday I finished my third week of 20 Second Fitness, which was the first week of full workouts. First and foremost I must say that I am so proud of myself for sticking with this so far and not missing a single day. In the past I have started routines and then easily just dropped them. A perfect example is the Wii Fit. My husband bought it for me one Christmas (I asked for it) and I did it for a few weeks. But then I stopped and literally did not touch it for YEARS. With 20 Second Fitness, I feel that the reason why I have stuck with it is because it truly is so easy to fit a 4 to 12 minute workout into any day. No matter how crazy it is! I have had some pretty crazy days these past 3 weeks so a few times I did my workout at 10:00 at night. But knowing it would be done quickly helped motivate me to just get it done.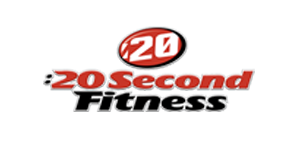 Now to be clear, when I say it is easy to fit into my day, that does not mean the workouts themselves are easy. No way. These workouts are HARD. In this first week of full workouts, each day was between 8 to 10 minutes long. But during that short period of time, you really push your body to the limit. Each day will consist of a body specific workout followed by a cardio workout and some days there is a little more after that. There was one day that included 4 straight minutes of tricep extensions. When I was done, I seriously could not lift my arms above my head for hours after. The cardio workouts this week included a lot of the dreaded burpees. On the last day, Day 6, Spencer made those burpees even more difficult by adding a pushup to them. Not cool Spencer, not cool. I actually swapped them out for regular burpees because I honestly could not do the ones with pushups. I have mentioned burpees a lot so I searched and found this diagram of what exactly a burpee is. Despite what you think you see in this picture, let me assure you that these things are hard!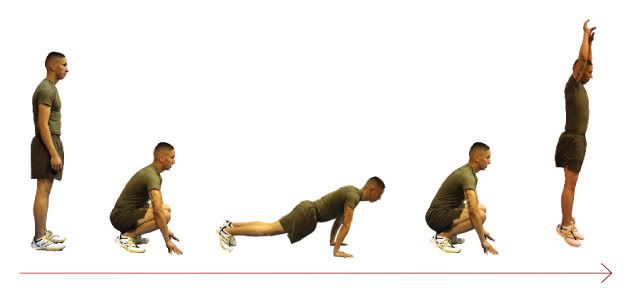 Moving onto the numbers; after two weeks I saw no change in my weight or measurements. Here after week 3, I am happy to report I saw two of my "stats" drop a teeny bit and that makes me very happy! Now I will say that we need to take my body measurements with a grain of salt because who knows if I am measuring in the same exact spot each time. I am trying my best though. As of today I have lost 1.5 pounds as well as 1/2 inch on my waist! I think that now that I am into the full workouts, I will start seeing these numbers decreases consistently.
Start
Weight: 145 lbs
Waist: 34.5"
Hips: 40"
Thigh: 23"
Arm: 11"
Week 2
Weight: 145 lbs
Waist: 34.5"
Hips: 40"
Thigh: 23"
Arm: 11"
Week 3


Weight: 143.5 lbs

Waist: 34"

Hips: 40"
Thigh: 23"
Arm: 11"
One thing to keep in mind when doing the 20 Second Fitness Program or any other fitness routine is that results vary from person to person and you may not see instant results. The key is not to get discouraged and to keep pushing and give it all you've got. Spencer has a few quick tips for us if you are not seeing the results you would like to see.
Today I start Week 4 and I am sure it is going to be even harder than last week. I will really need to practice those darn burpees with pushups so I can actually do them. I am looking forward to the challenge though as well as the results. Stay tuned!
Free Shipping Discount!
Don't forget you can use code
green mamas pad
when your order
20 Second Fitness
and receive free shipping in the Continental United States or a $15 discount for orders to Canada and overseas.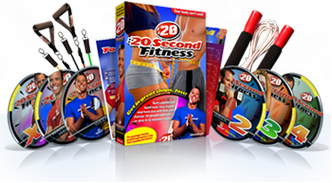 Follow my 20 Second Fitness Journey
Introduction
Week 1
Week 2
Check out these other great bloggers who are using 20 Second Fitness!
Maggie at My Little Review Corner
Paula at Frosted Fingers
Shasta at Faithfully Frugal and Free
Rachel at Yellow Tennessee
Kim at What's That Smell?
Alison at Being Alison
Annie at Mama Dweeb
Amy at Coffee Lovin Mom
Christa at Little BGCG Reviews
Danw at Dawn's Daily Diggs
Nicole at The Blonde Critic
Nina at The One Fantastical
Jessi at Jabbering Jessi
Crystal Simply Being Mommy
Connie at MiscFinds4u
Kathleen at Life With 4 Boys
Brandy at Happily Blended
I was given a 20 Second Fitness Program kit free of charge in order to try it out and report back on my progress. I received no monetary compensation and all thoughts and opinions are my own. Always check with your doctor first before starting any fitness routine or program.