Did you know that October is Fair Trade Month? Do you even know what Fair Trade means? I think the term Fair Trade is something that most people have heard of and they know it is a positive thing, but they aren't really sure exactly what it means or why it is important. Products that carry the Fair Trade Certified logo are sourced from farmers and workers who are fairly compensated. The goal is to help producers in developing countries establish better trading conditions and build sustainable businesses.




"Fair Trade USA is the leading third-party certifier of Fair Trade products in the United States. We enable you, the consumer, to make a difference with your dollar. We help people and the planet work in tandem so both are healthy and sustained. We provide farmers in developing nations the tools to thrive as international business people."
The most common goods you may see carrying the Fair Trade Certified logo are coffee, cocoa, chocolate and tea but it goes beyond that and touches handicrafts, sugar, bananas, honey wind and even more. I know it can be a challenge to find Fair Trade Certified goods, especially in your large chain stores. As part of Fair Trade Month 2011, Fair Trade USA has launched the Fair Trade Finder app to help consumers find Fair Trade Certified products more easily.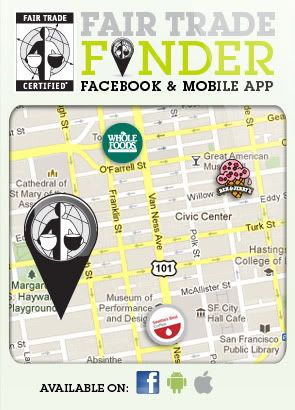 The free Fair Trade Finder app is available on Facebook and on your iPhone or Android mobile phones. This application allows you to enter in your location to find out where you can buy Fair Trade Certified products near you. If you find a product and location that is not yet in the application, you can easily add it so that others can find it too.
Fair Trade Finder for the iPhone
I downloaded the iPhone app myself over the weekend and I am anxious to enter in more products as I spot them. I was even surprised to learn there were already some entries for my small town. It will be fun to help expand this useful database and find more places to purchase Fair Trade Certified goodies near me.
Get the Fair Trade Finer App
Facebook:
www.fairtradeapp.com
iPhone:
itunes.apple.com/us/app/fair-trade-finder/id467353692
Android:
market.android.com/details?id=org.fairtradeusa.finder
Giveaway
In honor of Fair Trade Month 2011 and the launch of the Fair Trade Finder app, Fair Trade USA is giving away a gift bag full of Fair Trade Certified products to one lucky reader! The gift bag includes these Fair Trade Certified products: Organic Chamomile with Lavender, Seattle's Best Coffee Organic Fair Trade level Four, Choice Organic Teas, Sen Cha Teas, and Green & Black Organic Chocolate. Approximate value: $50. Please use the Rafflecopter entry form below.
Please note that the opinions and views expressed here are my own. I am receiving a gift bag for hosting this giveaway