It is no secret that we are a house full of Star Wars geeks. Myself included. My boys are particularly obssesed with everything Star Wars and flip out anytime they see their beloved characters anywhere. I've always had a soft spot for Luke personally, while I think my children prefer the evil sith lords like Darth Vader. Yes, we own all six movies as well as all of the sets of The Clone Wars animated series. We have even had Star Wars marathons on those really sick, everyone's laying on the couch kidn of days.

The Star Wars Complete Saga set on Blu-Ray is now available at retailers nationwide and this is a must-have item for any serious Star Wars fan. Or even the casual one.

"This incredible collection unites all six Episodes together for the first time in stunning high definition with the purest digital sound in the galaxy. With over 40 hours of thrilling special features, including all-new content created exclusively for this release, you can journey deeper into the Star Wars universe and discover more than ever before."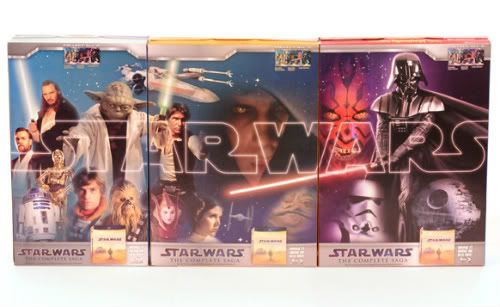 To celebrate the big release, Star Wars has teamed up with General Mills and select Big G Cereals have a Star Wars good vs. evil poster on the back. There are three different cereal boxes that are available exclusively at
Walmart
and when you line them up together they create one panoramic poster. These posters can be found on specially marked boxes of Honey Nut Cheerios
®
, Cinnamon Toast Crunch
®
, and Lucky Charms
®
My boys love their Honey Nut Cheerios, or as they like to call it "honey cereal", and to have a cool Star Wars image on the back is an added bonus for them.
I know you want some of these cool cereal boxes for the Star Wars geek in your life. Now is your chance to win a great prize pack that includes all three boxes!
Giveaway
One (1) winner will receive a prize pack consisting of a $25 Walmart gift card as well as one box of each of the specially marked Honey Nut Cheerios, Cinnamon Toast Crunch and Lucky Charms boxes to form your own Star Wars panoramic poster. Please use the Rafflecopter entry form below.
Please note that the opinions and views expressed in this review are my own and based on my personal experience with the product and/or company. The cereal, gift card, information, and giveaway have been provided by General Mills through MyBlogSpark.