Did you know that your mattress is most likely releasing toxic gases into the air that you are breathing in every night? Not a very comforting thought at all. Chemicals like Formaldehyde, TDI (toluene di-isocyanate), styrene and butadiene are widely used in conventional mattresses and these chemicals end up in our bodies and pose risk to our children's developing brains. It is for these reasons that Michael Penny set out to create a healthy, non-toxic mattress and Savvy Rest was born.

"As I learned what toxic chemicals and allergens wind up in mattresses, it became my life's work to create a healthy, comfortable alternative."

- Michael Penny
Savvy Rest
is a mattress manufacturer who's mission is
"To manufacture the finest nontoxic, comfortable, and durable alternative to conventional mattresses."
Their organic mattresses are made with only nontoxic, natural materials like natural latex, organic cotton and organic wool. There are no off-gassing chemicals, pesticide residues or flame retardants. And the Savvy Rest Organic Mattress was rated "Greenest" by National Geographic's Green Guide.
In addition to their organic bed mattresses, Savvy Rest also makes an organic crib mattress as well as a line of
Organic Pillows
. There are four types of pillows to choose from: Shredded Latex, Contour Pillow, Soap Shape Pillow and Wool Pillow. All of the pillows come with a removable and washable organic cotton cover.
Savvy Rest was kind enough to send me a few pillows to test out. I am normally a stomach sleeper but being 29 weeks pregnant makes that impossible. So since I pretty much sleep on my side right now, I wanted to try the Contour Pillow, which is recommended for side sleepers.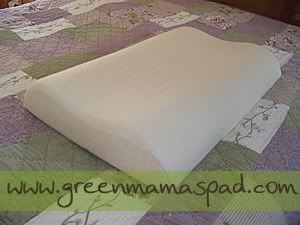 The Contour Pillow is made from natural latex that is form-molded into a contour shape for neck support. The latex has air holes for healthy air circulation. My neck was so happy to receive this pillow. I don't really like to sleep on my side because it is uncomfortable for me, especially for my neck. The Contour Pillow definitely helped with that and made side sleeping way more comfortable with me. With 11 weeks to go in this pregnancy, I am going to be using this a lot.
Savvy Rest also sent me their Shredded Latex Pillow to test out. Basically this pillow is overstuffed with shredded latex. And when I say overstuffed, I mean it! The reason why it comes that way is so that you can remove as much or as little of the latex as you need to get the firmness that you need.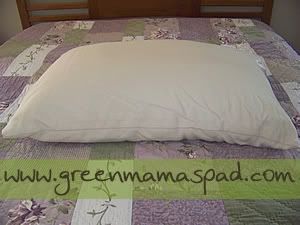 My best advice to determine how much to take out is to keep testing it. I laid on it as is and the thing was huge, so I knew I wanted to take a good amount out. I will warn you to be careful, those little latex pieces can be messy.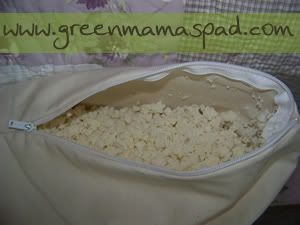 I figured trying to pour the latex out would be a disaster, so I grabbed a small kids cup and used that to scoop the latex into a bag. I did spill a little bit, but it wasn't too bad. I kept scooping until I had filled up my bag and then I laid down on it to see if it was the firmness that I wanted. Below you can see how much of the shredded latex I removed.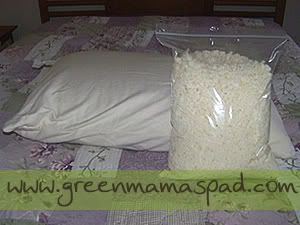 It is hard to tell from the picture, but the amount I took out made a nice difference in the pillow. I like my pillows to be a little smushy so this gave me the perfect consistency. It is so nice and comfy. I think once I am at the point where I can sleep on my belly again I might take just a little more latex out. I'll have to play around with it when the time comes. I'm holding onto the extra latex in case I want to change it up or in case of a pillow accident.
All in all, I've had a wonderful experience with both of my
Savvy Rest Organic Pillows
. Originally, I was going to give the shredded one to my hubby, but I changed my mind. He's a creature of habit and perfectly content with his old smashed pillow, so now I have two great new pillows all to myself. Looking to the near future, I will be needing a new crib mattress for our new baby boy come December and the
Savvy Baby Crib Mattress
is definitely one I will be considering!
Shop
Both the Contour and Shredded Latex pillows start at $59.00 for a standard size. You can order pillows, mattresses and more directly from Savvy Rest by visiting
SavvyRest.com
. If you want to see a mattress in person, you can
Find A Dealer
near you (which Savvy Rest recommends).
Please note that the above review is based solely on my experiences with this product. You may have a different experience or result than I did.