Reduce. Reuse. Recycle. No, it is not just the motto for Bob the Builder; it should be all of our motto's! I see more and more people recycling which is awesome. But its even better if you can Reuse something. Over the years, many of us seem to build up quite a collection of t-shirts. For you maybe they are from your college or maybe you have a lot of concert shirts. For me, I had a ton of New Jersey Devils (NHL) shirts. Most of them were probably purchased in my late teens and early twenties. When I got married back in 2003 and we moved into our house, they got packed away in a box which has just sat in the basement. I actually was holding onto them in hopes of making a blanket or quilt out of them someday, but I have absolutely no crafting or sewing abilities whatsoever.

Then a few weeks ago I came across The Campus Quilt Company. I cannot even begin to tell you how excited I was to find them. I love that you can REUSE your old shirts to make something that will last forever instead of just sending them off to a landfill.


Custom T-Shirt Quilts made from your t-shirts, sweatshirts, ties, socks, hats, baby outfits, and any other memorable fabric. If you are like most active people, you have a pile of treasured old t-shirts you just can't bear to throw away. Campus Quilt is dedicated to turning your old clothes into lasting memories in the form of fun and functional t-shirt quilts.
The process for creating my quilt was quite fun. The first step is to determine the size you want. Each "square is 15 inches and you can get a quilt as small as 9 squares (Lap Quilt) or as large as 49 squares (King Size). Once you place your order, you will be mailed out your order packet. In this packet you will find an order form, layout instructions, swatches for quilt backing (which you must return), stickers to number your shirts and a pre-paid UPS mailing label to ship your shirts and order back.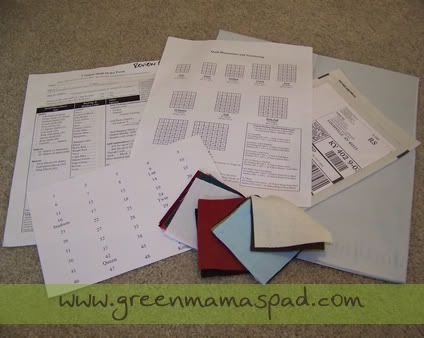 So I went into the basement and dug out my box of shirts. I threw them in the wash because hey, they've been in my basement for 6 years! Then the fun began. The Campus Quilt Company was nice enough to let me design a 16 square quilt to review. As it turns out, I had the perfect amount of shirts for it. I cleaned up my living room floor and laid them out in the order I wanted. I even folded them into 15 inch squares, because I am crazy like that.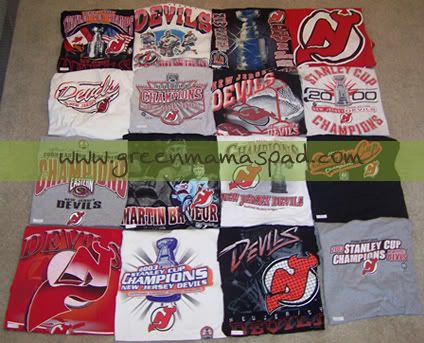 When I was happy with the order of my shirts, I numbered them and snapped a picture, which I included with my order form just as a backup. then its time to pick your finishing touches. The price of the quilt includes cotton backing which comes in a variety of colors. I decided to go with red flannel which costs extra, but I love how soft flannel is. Some of the other extras you can get are sashing and embroidery. Then I carefully placed my shirts, in order, into the bag provided, along with my form, picture and swatches and dropped it off at Staples for UPS pickup. Turn around on quilts is about 2 to 4 weeks.
Last week my finished quilt arrived on my doorstep and we were so excited. I tore open that box immediately. I could not have been any happier with the end result. Most of the designs on my shirts were larger than 15 inches so I was a little nervous about how they would look. The Campus Quilt Company did a great job of getting the important parts into each square. I also love the stitching, which is on not just the back but on the front of the shirts. It really looks fantastic and I love it.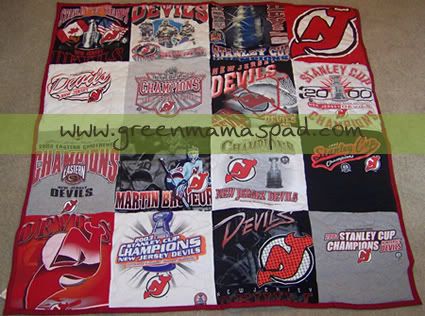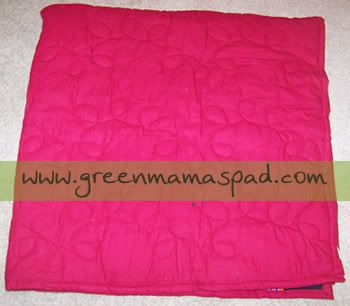 Shop
A custom t-shirt quilt from
The Campus Quilt Company
would make a perfect holiday gift. And you don't have to use just t-shirts, you can even use your favorite baby clothes. They even make t-shirt pillows so you can get a pillow to match your quilt! Be sure to get your orders in early before the holiday rush starts!
Giveaway
The Campus Quilt Company
is very generously awarding one Green Mama's Pad reader with a $150 gift card to use towards their very own custom quilt.
Mandatory Entry
Visit
The Campus Quilt Company
and take a look around. Come back and tell me what kind of quilt you would buy with your gift card if you won. Make sure you tell me what kind of shirts/clothing items you will be sending, the size quilt and any extras you might want.
Extra Entries
- Follow me on Blogger or subscribe to my RSS feed
- Subscribe via e-mail. Your email must validate or it will not count. Leave email address in comments.
- Blog about this giveaway with a link to this post and the sponsor. Please leave link in comment.
- Add my Green Mama's Pad button to your sidebar or add Green Mama's Pad to your blogroll. Leave your blog link.
- Follow
GreenMamasPad
Twitter and and tweet this giveaway. You can tweet once daily. Leave link to tweet in comment.
- Add my Green Holiday Gift Guide button to your blog.
- Fave me on Technorati and comment with your ID.
- Stumble this
post
and comment with your ID.
- Become a fan of
Green Mama's Pad
on Facebook.
- Become a fan of
The Campus Quilt Company
on Facebook.
- Leave a comment on any non-giveaway post and let me know which one.
This giveaway is open to US Residents 18+ only and will end on Friday, October 30th at 11:59pm EST. One winner will be chosen at random using Random.org. Winner has 48 hours to claim his/her prize otherwise a new winner will be picked. You must leave your e-mail address in all of your comment(s) so I can contact you. I will not share your e-mail address with anyone, it will strictly be used to notify you if you win. Good luck!
Please note that the opinions and views expressed in this review are my own and based on my personal experience with the company and product. You may encounter a different experience with this company or their products than I did. I did receive a free product for this review.