Having a family game night is a really great way for everyone to gather around, spend some quality time together, unplugged, and just have some fun. Introducing board games at a young age is good and hopefully will help to build a long standing tradition. We have some of the classic board games, as well as some Star Wars versions of classic board games. I was recently given the opportunity to try a Tales to Play game from Patch.


"Our Tales to Play™ line of games brings to life classic and beloved stories for children and families to enjoy. If you love the book, then you can now live the game with colorful game boards, including 3D accessories and detailed characters. Each game is an adventure, much like the ones children read about in books, and each time you play you'll experience the magic and whimsy of a great story being told.
We received
The Little Engine That Could Game
to play with. My children are familiar with and enjoy this book a lot, and we actually have three copies of it. The game brings the story to life for them with bright blue train engines that move along the tracks on the game board till they eventually make it up the big mountain.
There is some minor assembly required with the mountain. This takes just a few seconds as they pieces easily fit together like a puzzle. Then just place the mountain in its spot and trains on their color coded track and you are ready to go.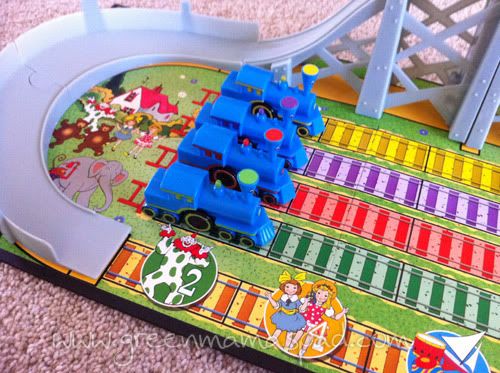 To move forward, each player draws a card during their turn. The card will tell you how many spaces to move on the board.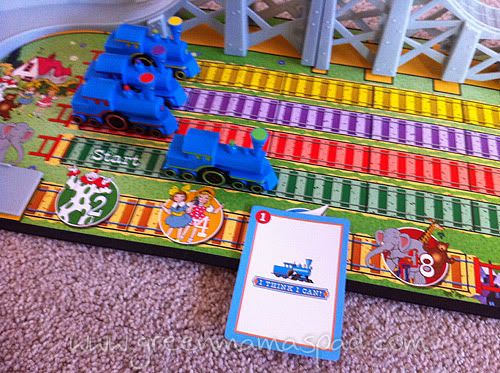 Players continue to draw cards as they race to the mountain. When they get to the mountain and began to climb they chant "I think I can! I think I can!"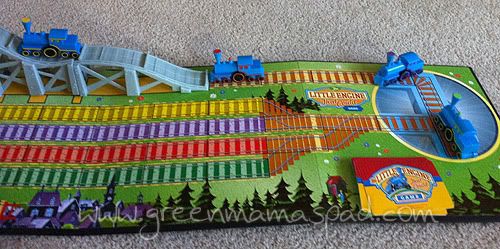 Once you get to the top of the mountain, you receive a ticket for being 1st, 2nd, 3rd or 4th. Each ticket has points listed on it.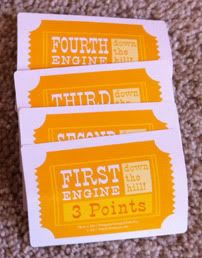 Then you release your train and let it zoom back down the mountain. This time chanting "I thought I could! I thought I could!"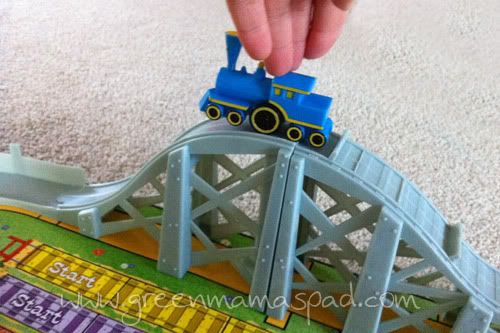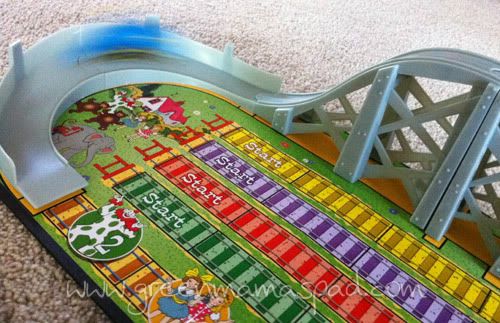 The space where your train lands on at the bottom of the mountain tells you how many points you will receive and you are awarded the corresponding token.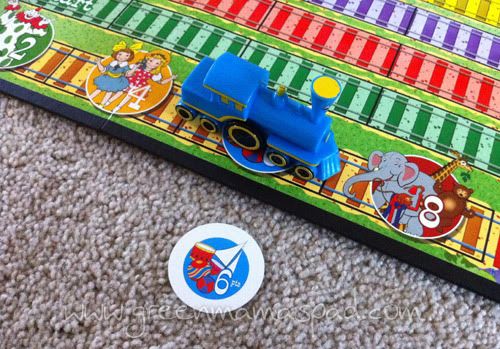 Players add their ticket points and token points together and the player with the highest total points wins! When you are all done with the game, the pieces fit nicely back into the plastic tray which you slip back into the box for tidy storage.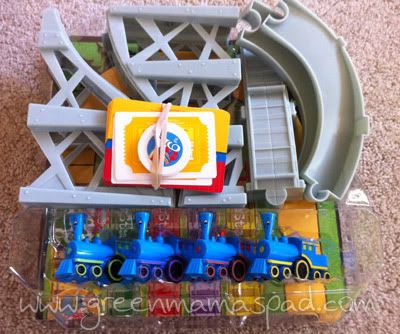 For ages 4 and up, this game is great for young children just learning how to play board games. The game play is simple and easy for them to understand and have fun with. My boys' favorite part was the zooming down the mountain and they repeated that multiple times once the game was done.
Buy
Tales to Play games are available at
Patch Products
for $23.99 each.
Giveaway
One winner will receive the Tales to Play: The Little Engine That Could Game reviewed here. Please use the Rafflecopter form below.
Please note that the opinions and views expressed in this review are my own and based on my personal experience with the product and/or company. You may encounter a different experience with this than I did. I received free product to review.