Happy 3rd Birthday Swagbucks! I wish I could say that I had joined Swagbucks in the very beginning and have been earning lots of free stuff for the past 3 years. I've only been a member for about 6 months now and I think I have earned a decent amount of Swag Bucks during that time.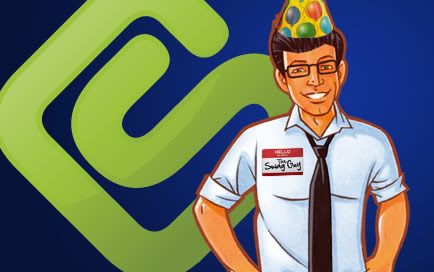 In honor of Swagbucks 3rd birthday, they are having a huge celebration on Monday, February 28. They have some pretty cool things planned for the day so you are going to want to check it out. Here is a sampling of the events:
• A Swag Code Extravaganza with at least 5 different codes throughout the day, and the opportunity to earn lots of Swag Bucks with them.
• A new look and feel for the Swagbucks Blog.
• The launch of two new features, one of which will redefine the way you use their search function
Swagbucks.com is a site where you can earn
rewards points
to redeem 1,000s of free products for doing the things you do every day. Whether it's searching the web, watching videos, playing games, shopping or more. You do not want to miss out on this birthday celebration.
New members automatically receive 30 Swag Bucks when they sign up to get them started. For this awesome birthday event, I have an exclusive code that will give you an additional 50 Swag Bucks when you sign up. That means you will start off with a total of 80! The code to enter when you register is
3rdBirthday107
and expires on February 28 at 11:59pm EST. Just click on the banner below to get started.
Please note that the above registration code is for new sign ups only and will not wok for existing members. I am a member of the Swagbucks Bloggers Outreach Program however I was not compensated for this post. The opinions and views expressed here are my own and based on my personal experience with the product. You may encounter a different experience with this than I did. The Swagbucks links included within this post do contain my referral code.