Many people don't realize that what you put on your body is just as important as what you put in your body. If you are using soaps, creams, etc. that are filled with chemicals, those chemicals are absorbed through your pores and into your bloodstream. If you want to find out just how toxic your personal care products may be, visit EWG Skin Deep Cosmetic Database. Once you check that out and toss all those nasty chemicals, the best thing you can do for yourself is choose products that are made from natural ingredients.


Eco Natural Soap all-natural handmade soaps are made from pure ingredients like kelp and cucumber peel and contain no chemicals. Owners Alan and Alicia started making changes to remove chemicals in their lives in 2006 when Alicia made wool dryer balls to use in their clothes dryer to replace dryer sheets. From there Alan was inspired to do more and began researching how to make soap. And so Eco Natural Soap was born!

I was so excited when Alan contacted me to do a review of their products. I have been using the same natural products for over 3 years now and I badly needed to try out something new. So I needed to choose the items I wanted to test and let me tell you that was one hard decision and it took me a couple of days. Stumped on what to do I contacted Alan for some advice on what would be good for me and my skin and he very quickly replied with lots of suggestions for me. He was so nice and gracious and very helpful. It is so refreshing to get to know the faces behind a company. After I finally made up my mind, Eco Natural Soap sent me 6 products to test out.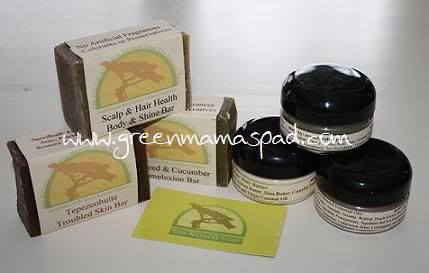 Scalp & Hair Health Shampoo Bar
For me, finding an all-natural shampoo that works for my hair has been one of my bigger challenges. Natural soaps and shampoos tend to not lather as much as chemical soaps which makes it hard for me to work through my hair. I have thick, oily hair and many natural shampoos that I have tried left my hair still feeling too greasy and unclean. I have been so unsuccessful that I still use a chemical shampoo alternating with a natural one because its the only way I feel that my hair is clean. So I could not wait to get my hands on this bar to try out. For starters, the lather is pretty nice. Now you are not going to get huge, thick bubbly lather however, there is something about this that makes it creamier because I am able to really work it through my hair and into my scalp. More so than any other natural shampoo I have ever tried. For that alone I am thrilled. I have been using this for 2 weeks now and I am very pleased. I am no longer alternating with my chemical shampoo which is huge for me. I still feel like my hair is a bit too oily still but I think that is going to balance out the longer I use it.
Tepezcohuite Acne & Troubled Skin Face Bar & Balm
Unfortunately adult acne is something I constantly battle with. Nothing horrid, but still a nuisance. I have come to realize that there is no "cure" since it is hormonal, but I still need good face products to keep it in check. The face soap I have been using is super drying so I wanted to try both these to see how my skin reacted. It has been so long since I have used bar soap that it took me a few times to get used to it again. I don't use a washcloth, just warm water and my hands. The first thing I noticed about this soap is that it is not drying out my skin. With all other face soaps I have tried, as soon as I am done washing I can immediately feel my skin drying and tightening. This leaves me with flaky patches. This is absolutely not the case with the tepezcohuite bar. I have been using this every morning in combination with the balm. Though the balm might look like a small amount, the jar will last a long time. It is super concentrated and you only need a little to cover your entire face.Has my acne 100% cleared up? No, and nothing can make that happen. But I am very happy with the results. My skin feels clean and not super dry like it used to. And no more flaky spots.
Seaweed & Cucumber Complexion Bar & Balm
"This is a magnificent bar of soap. Your skin will feel like you already used a moisturizer cream after use. You will notice immediate results. Your skin will be smoother, softer and younger looking with the first cleansing."
That statement right there is what made me want to try this soap. And you know what, its true! I use these two at night before bed and I love them. Love! Without a doubt my skin feels so smooth after I use them. The balm is also supposed to help with skin imperfections like brown/age spots. I am hoping after a few more weeks of use I will see a change in that. Again this is a concentrated balm so a little goes a long way.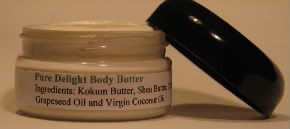 Skin Renewal "Pure Delight" Body Butter
I have never used a body butter before so this was a totally new avenue for me. When you open this jar you are greeted with the most amazing citrus scent. It is available in an unscented version but really, the citrus is so refreshing that you don't want to miss out on it. I have been using it on super dry spots like my knees and elbows and it moisturizes so well. Of course you can use it from head to toe but I am being stingy because I want it to last forever.
This is just a small sampling of what Eco Natural Soap has to offer. In addition to soaps, balms an body butters they also have pet products and baby products. Then there is the Chefs Friend Odor Remover Bar which sounds awesome. So hop on over and take a look, I know you will find something that you will enjoy using.
Shop
Visit
Eco Natural Soap
to see their wide selection of natural, handmade soaps and more! 30 products to choose from.
Giveaway
One (1) winner will get to pick their choice of 3 bars of soap, 2 balms and 1 butter. That is a total of 5 products with a retail value of over $40! (Value varies depending on products picked).
Mandatory Entry
Visit
Eco Natural Soap
and tell me which 2 items you want to try the most.
Extra Entries
- Follow/subscribe to Alicia's blog,
Eco Friendly Homemaking
.
- "Like"
Green Mama's Pad on Facebook
. Please leave me your first name and last name initial to validate. If you leave a comment on my wall you can give yourself an additional entry.
- Share this giveaway on Facebook. You can do this once daily. Leave link in comment.
- Follow Green Mama's Pad on Google Friend Connect.
- Subscribe to my RSS feed in a reader or subscribe via e-mail. Your email must validate or it will not count.
- Add my Green Mama's Pad button to your sidebar or add Green Mama's Pad to your blogroll. Leave your blog link.
- Follow
@GreenMamasPad
on Twitter and and tweet this giveaway. You can tweet once daily. Leave link to tweet in comment. You must have at least 50 followers. You can use the tweet button at the bottom of the post or copy and paste this:
Eco Natural Soap, all-natural handmade soap #giveaway Over $40 value. Ends 2/24 @greenmamaspad http://bit.ly/gb4xLK
- Blog about this giveaway. Your post must include a link to this post plus a link to the sponsor. Please leave link.
- Stumble this
post
and comment with your ID.
- Stumble one of my non-giveaway posts and tell me which one. Worth 2 entries so leave 2 comments.
- Leave a comment on any of my non-giveaway posts and tell me which one.
This giveaway is open to US Residents 18+ only and will end on Thursday, February 24 at 11:59pm EST. One winner will be chosen at random using Random.org and will be posted on the Winner's Announcement Page. Winner has 48 hours to claim his/her prize otherwise a new winner will be picked. Please leave your e-mail address in all of your comment(s) so I can contact you. I will not share your e-mail address with anyone, it will strictly be used to notify you if you win. Good luck!
Please note that the opinions and views expressed here are my own and based on my personal experience with the product. You may encounter a different experience with this than I did. Eco Natural Soap provided me with a product for review and is providing the prize for this giveaway.