Welcome to Thrifty Thursday! We all know that buying eco-friendly products can be expensive at times. So here are some coupons and sales for green products I have come across. Happy shopping!


Stonyfield Farm - YoBaby Coupon
Share a coupon with a friend and Stonyfield will also send you a Buy One Get One Free coupon for YoBaby Multipack.
Organic / All Natural Grocery Coupons from Coupons.com
Unfortunately I cannot link directly to a coupon so I will list what page it can be found to hopefully make them easier for you to find and print.
$1.00 off Rice Dream 64oz Rice Dream (Redeem at Wakefern, Shoprite, & Pricerite)
page 3
$1.00 off So Delicious 64oz or 32oz Coconut Milk Beverage
page 3
$2.00 off ZarBee's Cough Syrup (Available at Walgreen's)
page 5
$1.00 off 8th Continent Soymilk, 1/2 Gallon (Redeem at Wakefern, Shoprite, & Pricerite)
page 4
$1.00 off on any TWO (2) Yogi™ Granola Snack Crisps
page 4
$1.00 off ANY Pacific Breeze™ Tea product
page 5
$1.00 off On ANY Sundown Naturals® or Marvel Heroes Vitamin Product
page 10
Zuliy.com
Kate Quinn Organics
Organic and fair trade clothing for girls, boys and maternity. Sale ends 2/21 at 6am PST. While supplies last.
Skye & Dragonfly Square Neck Dress - Infant
$44.00 | $21.99
Charcoal Square Neck Maternity Dress
$78.00 | $39.99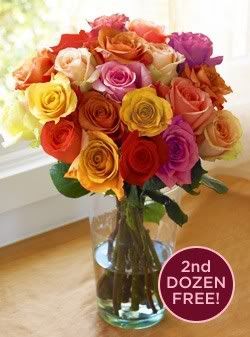 Organic Bouquet
Buy
one dozen assorted roses
get another dozen of assorted roses for free! That is 24 long stem roses for $49.95. All roses must be shipped together in the same package to the same address. While supplies last.
This post contains some affiliate links.