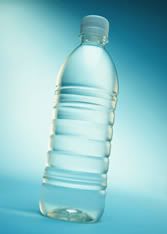 I never quite understood why we pay for something we can get for little to no money right from your kitchen tap. It just seems like a complete waste of money to me. According to Ideal Bite, the average cost of tap water is $0.0015 per gallon. In contrast, a 16-oz bottle of water can cost up to $2.00 at the convenience store. Are we really paying more for water than we are gasoline? (Gasoline is $2.67/gallon here). Doesn't this seem ridiculous to anyone else?

Let's forget the whole money aspect for a few minutes, maybe you have the extra money to spend on water. But what about the environmental impact of all those water bottles? Take a look at this:

~ Americans consume more than 2.5 million bottles of water every hour, and only around 15% are recycled. YIKES!

~ Bottled water produces up to 1.5 million tons of plastic waste per year. Again, only a small percentage are actually recycled.

~ 1.5 million barrels of oil are used every year to manufacture disposable plastic water bottles for the U.S. market. That is enough energy to power 250,000 homes or fuel 100,000 cars for a year.

So between the high cost and the environmental impact, doesn't that make you want to at least cut back on your bottled water consumption? If you said yes, then here are some easy things you can do. Get yourself a good reuabale water bottle. I prefer stainless steel ones but if you opt for plastic, at least make sure it is BPA-free and Phthalate free. Once you have your bottle, fill it up at home before you leave the house. It is as simple as that.

Wait, you don't like the taste of tap water? I don't either. We
have well water which is OK but I hate the taste of municipal water - it tastes like chlorine. Or maybe you are concerned about what is in the tap water? No problem! We are fortunate that our refrigerator has a PUR water filter that filters the water for both our water and ice. So I just fill up my bottles from the fridge. If you don't have that, there are other filtration items you can buy. Both PUR and Brita make water pitchers with filters that you can keep in your fridge as well as filters you can attach to your kitchen faucet. We used to have both of these before we bought our refrigerator a few years ago. They worked great and the faucet one was really nice because I could also filter water I cooked with. (I miss that). There are even water bottles out there with filters on them.

I've accumulated a small collection of stainless steel bottles over the last 2 years, as you can see in the above picture. I love them all. There are so many out there to choose from. You can check out my EarthLust review that I did earlier this year. For a wide selection of bottles, you can visit reusablebags.com which is where I bought our Klean Kanteen bottles.

And if you are up for it, sign the Take Back The Tap Pledge and commit yourself to reducing your bottled water usage!