If you are a woman or live with a woman, you surely are familiar with the smell of nail polish. When someone paints their nails, the entire room fills with that smell. Can an odor that strong be safe? No probably not. And how about your traditional nail polish remover - that smells even worse than the polish! Well, Melanie Hurley, founder of Piggy Paint, wasn't too thrilled with these smells either.

"I am a stay-at-home mom with two very fancy little girls, ages 2 and 4, who l

ove to have their fingernails painted. I've always hated the thought of my kiddos putting their hands in their mouths after I painted their nails with traditional kid

polishes. Not only did the ingestion of the chemicals worry me, but the smell nearly left me light-headed

after painting two sets of fingernails and toenails."





"Piggy Paint is specially formulated from God's natural ingredients and dries to a hard, durable finish. There are no toxic chemicals; it's free of formaldehyde, toluene, phthalates, biphenyl A, ethyl acetate and acetone."
Piggy Paint was kind enough to send me a bottle of their
natural nail polish
and polish remover to test out. I received a bottle of the Girls Rule color which is a bright shimmery magenta. The first thing I did was use the Piggy Paint nail polish remover to take off the polish already on my toes (which was a different natural brand). As per the instructions you soak a cotton ball or cotton pad then hold it on your nail for 30 seconds to soak in, then rub off the polish. I've had people tell me they can't get natural nail polishes to come off. I will say that they do take a little more elbow grease, but by following these instructions it came off pretty easily. And hey, I burned a few extra calories for my hard work.
I always have nail polish on my toes because it makes my feet look a little nicer.
Piggy Paint recommends doing 2-3 thin coats and then allowing to air dry for 60 seconds. For maximum chip resistance, you can then blow dry your nails for a few minutes. The first thing I loved about both the polish and remover is they are virtually odor free. The only way you smell anything is if you put your nose right up to the open bottle and even then it is very faint. Now I put on only one coat of the Girls Rule nail polish because well, I'm lazy. But it was the perfect amount of color for me. Here are my scary feet all prettied up with Piggy Paint.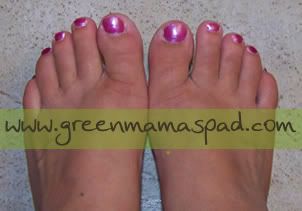 Now I don't have any daughters of my own (sigh) but we do have a lot of nieces so this is definitely something I would buy for them. It is safe and natural and even made in the U.S.A! I would definitely recommend these for the little girl in your life. Even Tori Spelling loves Piggy Paint!
Check out pictures from her daughter's first birthday party.
Shop
You can purchase all
Piggy Paint
products directly on their website and receive FREE SHIPPING on all domestic orders over $25. Plus you can save 15% off your order with an exclusive coupon code for Green Mama's Pad readers. Just use the code
GREEN15L
which expires on October 31, 2009.
***Giveaway Closed***
Giveaway
One lucky reader will win a $15 gift certificate code to use at the Piggy Paint online store.
Mandatory Entry
Visit the Piggy Paint site and then leave me a comment telling me what your favorite Piggy Paint color is and what you would buy if you won the $15 gift certificate. Please leave a valid email address where Piggy Paint can contact you should you win.
Extra Entries
- Follow me on Blogger or subscribe to my RSS feed
- Subscribe via e-mail. Your email must validate or it will not count. Leave email address in comments.
- Blog about this giveaway with a link to this post. Please leave link in comment.
- Add my Green Mama's Pad button to your sidebar or add Green Mama's Pad to your blogroll. Leave your blog link.
- Follow GreenMamasPad and Piggy Paint on Twitter and and tweet this giveaway. You can tweet once daily. Leave link to tweet in comment.
- Fave me on Technorati and comment with your ID.
- Stumble this
post
and comment with your ID.
- Become a fan of Green Mama's Pad on Facebook.
- Become a fan of Piggy Paint on Facebook.
- Leave a comment on any non-giveaway post and let me know which one.
This giveaway is open to US Residents 18+ only and will end on Tuesday, September 22nd at 11:59pm EST. One winner will be chosen at random using Random.org. Winner has 48 hours to claim his/her prize otherwise a new winner will be picked. You must leave your e-mail address in all of your comment(s) so I can contact you. I will not share your e-mail address with anyone, it will strictly be used to notify you if you win. Good luck!
Please note that the above review is based solely on my experiences with this product. You may have a different experience or result than I did.