What happens to old cell phones in your house when you upgrade? I'll tell you what happens around here: we give them to our kids to play with and now we have multiple cell phones scattered throughout the house. See at first they like to play with them, but only if they are charged and they can play games or press buttons. Then eventually I get sick of charging them and I stop, so they stop playing with them. I just spent some time this morning trying to collect them all. I only found four, but I know we have at least two more somewhere in this house.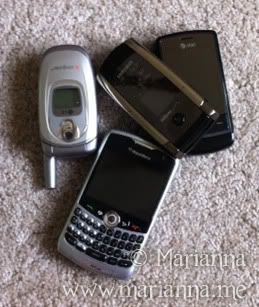 A much smarter thing to do would be to sell them. Right now all they are doing is collecting dust but I could easily make some money from them instead. But what is the best way to do that? Who is going to give me the best price for my husband's old Blackberry? SellCell.com helps you easily recycle and
sell your cell phone
by finding you the best prices available. Not only do you get a little bit of cash but your phone gets recycled which is so much better for the environment.
Why should you recycle your cell phone?
Cell phones contain a variety of precious metals, copper, and plastics and almost all of the materials can be recovered and used in new products. Plus, cell phones contain hazardous materials such as lead, mercury, cadmium and arsenic, none of which should be sitting in a landfill because they will contaminate the air, soil and groundwater.

SellCell.com is very easy to use: simply type in your cell phone make and model it will pull up what the top phone buyers are currently paying for it. If you are unsure of the model of your phone and you no longer have the information booklets, simply open up the battery area and take the battery out and the model number is printed there. So what IS my husband's Blackberry going for? Well it turns out, only $7.00. The other 3 phones in my picture I can get $2.00 each for a grand total of $13.00 for all four phones. I know it doesn't seem like much, but these are really, really old phones. Plus $13 is like 3 Frappuccinos at Starbucks!
Now, my current AT&T agreement will be up this December and I will be eligible for an iPhone upgrade. I love my iPhone 4 to death but if Apple should release the iPhone 5 by then, I will definitely be upgrading. And while part of me is tempted to give it to my kids so they can play Angry Birds and not try to grab the new phone, I know I am better off selling it. When I ran a search on SellCell.com for my 16 GB iPhone 4, I learned that I could get up to $194 for it. It even tells me which phone buyers will pay me via PayPal, which is pretty awesome.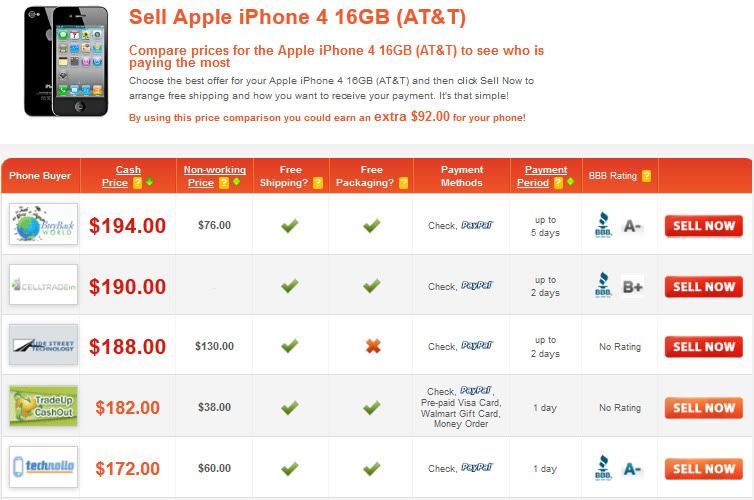 If you are looking to
sell old mobile phones
, SellCell.com is definitely a website to check out. They take the hassle out of visiting multiple sites to get a quote on your phone by listing the top buyers all in one place for you. So go ahead, hunt down all of the old cell phones you handed down to your kids and see how much you can get for them all. The longer you wait, the less value you will get so do it sooner rather than later.
How many old cell phones do you have laying around your house?
This post has been brought to you by SellCell.com. All thoughts and opinions are my own.