When I think about how much wasted paper I receive in the mail every day it makes me cringe. I have done a pretty good job of unsubscribing from all of the catalogs that used to arrive here every day but we still receive all of our bills via snail mail. While w realize we can switch to paperless billing with each individual company, that means we have to go to multiple websites to view and pay our bills. Wouldn't it be awesome if you could get all of your postal mail delivered digitally to one single place?


Well guess what? Now you can! What the heck am I talking about? I am talking about
Zumbox
.
Zumbox Digital Postal Mail
allows you to receive your snail mail digitally and store it all together for easy access.
Zumbox works directly with the companies that send you mail to create the digital version of the bill, statement or other letter that is delivered to your Zumbox. You don't have to do anything except sign up and verify your Zumbox and all the mail will be delivered digitally to you - available in one place, not spread over dozens of different web sites.

The digital version in your Zumbox is an exact copy of the paper version you get today, just better - we call it digital postal mail.

~ You get it faster, typically 2-3 days sooner than the paper version

~ It includes links directly to bill payment and customer service locations, making it easy to interact with the sender

~ It includes the ability to add notes, set reminders and more, helping you be better organized than you can with any piles on your desk

~ You can access your Zumbox mail from anywhere - on any computer or mobile device, so you can open your mail from work, when traveling, whenever you want

~ It is stored electronically for as long as you want - letting you download a PDF file or print an exact copy from your home printer if you ever need it.
Let's not forget that going paperless with all or most of your postal mail is a great way to go green and do good for the environment! But if that isn't incentive enough to sign up, then perhaps the fabulous prizes that Zumbox is giving away will be!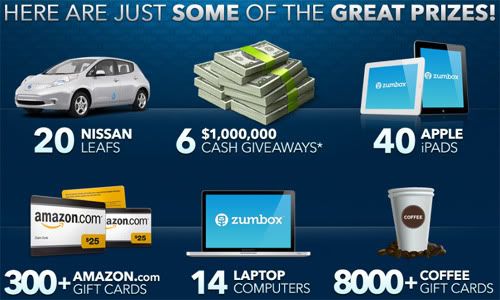 Just for signing up and verifying your address, you have a chance to win a Nissan Leaf, an Apple iPad, various gift cards and more. Oh and maybe even one million dollars! Once you register,
Zumbox
will send you a letter via regular postal mail that contains a verification code. You enter that code into your account which will then verify you are who you say you are and you will instantly find out if you won anything. I signed up myself last week but unfortunately I was not an instant winner. But my chances at winning doesn't end there. You can refer friends and if any of them win, then you also win the same prize!
I am excited to see how Zumbox progresses and I really like the idea of having all of my mail stored digitally for me to access whenever I want. The fact that it will cut the paper being stuffed into my mailbox six days a week makes it a win for me! Now if only I could figure out how to get the junk mail to stop showing up.
Head on over to
Zumbox
today to get started!
All thoughts and opinions are my own. I was NOT compensated for this post.