One thing I have never been "green" about is diapers. With my oldest son, I never even gave cloth diapers a thought. When the twins were born, I liked the idea of cloth but just thought it would be too much with two infants and three kids under two. Then as I prepared for the arrival of my fourth son I promised myself that I would give cloth diapers a try. And I did! For like a week. Or less. I hated it. I'm lazy and bringing the diaper to the toilet to dump any waste in, rinsing it off and then putting it in pail to wash later was just way too much for me. I am sorry Earth, I just could not do it.

So for the past 6+ years I have been a pretty big Pampers user. Even though I hate the perfumey smell, they are what worked best for us. I never even really considered using a more eco-friendly disposable diaper, mostly because they tend to be more expensive. However I was recently given an opportunity to try out the Seventh Generation Free & Clear Diapers and now I am wishing I had given them a shot years ago!



What Seventh Generation leaves out is just as important as what they put in. Free & Clear diapers do not include chlorine processing, fragrances, latex and petroleum based lotions. In an effort to contribute less overall landfill waste and continue to ensure a premium standard of absorbency, the new Free & Clear diapers have been redesigned with a lighter-weight core. With processed chlorine-free wood pulp in Free & Clear diapers, Seventh Generation also makes certain that no chlorine is released into the environment during the totally chlorine-free (TCF) whitening process of the diapers and training pants.
I think we all know that disposable diapers create a huge amount of waste throughout the world every year. But I think most people don't realize the other not so great facts about "sposies." To get that nice white color that most diapers have, they are bleached with chlorine. Some are then also given a hint of fragrance; I suppose to try and mask the smell of poop. Though really there is no combating that smell. The fragrance seems pointless to me. Seventh Generation Free & Clear Diapers are just that - free and clear of chlorine and perfumes. Seventh Generation uses a
TCF whitening process
which uses no chlorine and therefor reduces the chlorinated toxins released into the environment.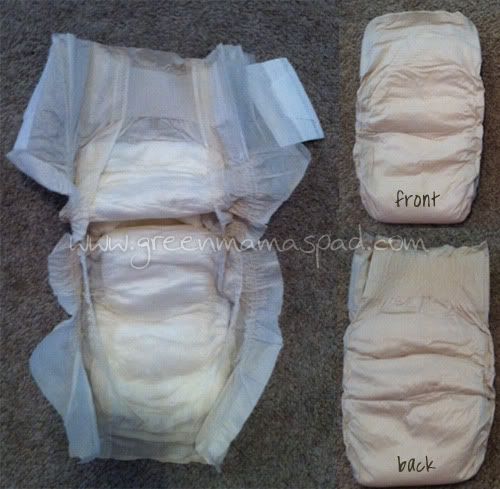 I must admit that I was a little nervous when I first tried these. I have had terrible leakage issues with so many brands of disposable diapers. Thankfully, these have worked beautifully for our 18 month old! After he wakes up from his 2 hour naps with a pretty soaked diaper, there is absolutely no leakages which is awesome. I really love that there is no fragrance on these diapers at all. If your child has sensitive skin this is a very good thing as fragrances can be an irritant. Since my son is in a size 4 diaper in Pampers, I opted for the Size 4 from Seventh Generation as well and its a good fit. There is just enough elasticity to allow for movement but it is still a nice snug fit.
Seventh Generation Diaper Sizes
Newborn: up to 10 lb. (36 diapers)
Stage 1: 8-14 lb. (44 diapers)
Stage 2: 12-18 lb. (40 diapers)
Stage 3: 16-28 lb. (35 diapers)
Stage 4: 22-37 lb. (30 diapers)
Stage 5: 27+ lb. (26 diapers)
Stage 6: 35+ lb. (22 diapers)
We have a few boxes of our old diapers to go through however once those are done, I am going to look into switching to these Seventh Generation Diapers. I am really thrilled with them and if I can find a way to maybe order them in bulk online so that the price is comparable to other brands, I am going to do it!
Coupon
Download a coupon for $2.00 off your purchase of Seventh Generation Diapers, Wipes or Training Pants
.
Giveaway
One (1) winner will receive a pack of Seventh Generation Free & Clear Diapers.
Choose from sizes 2, 4 or 5 only.
Mandatory Entry
Please leave a comment telling me what you think about the new Seventh Generation Free & Clear Diapers.
Extra Entries
- "Like"
Seventh Generation on Facebook
and tell them I sent you! Please leave me your first name and last name initial to validate.
- "Like"
Green Mama's Pad on Facebook
. Please leave me your first name and last name initial to validate.
- Share this giveaway with link on Facebook. You can do this once, total. Leave link in comment.
- Follow Green Mama's Pad publicly on Google Friend Connect.
- Subscribe to my RSS feed in a reader or subscribe via e-mail. Your email must validate or it will not count.
- Add my Green Mama's Pad button to your sidebar or add Green Mama's Pad to your blogroll. Leave your blog link.
- Follow
@GreenMamasPad
and
@SeventhGen
on Twitter and and tweet this giveaway. Tweets are unlimited but must be at least 3 hours apart. Leave link to tweet in comment. You must have at least 50 followers. Please use the following when tweeting:
#Win @SeventhGen Free & Clear Baby Diapers via @GreenMamasPad! #Giveaway ends 7/25. http://bit.ly/oJQZIF
- Follow
Green Mama's Pad on StumbleUpon
. Worth 2 entries so leave 2 comments plus your StumbleUpon ID.
- Stumble one of my non-giveaway posts and tell me which one. Worth 2 entries so leave 2 comments with your ID.
- Worth 20 entries! Sign up and verify your free account at Zumbox through my referral link (https://www.zumbox.com/giveaway/23922wf). Once you sign up they will snail mail you a verification code within a few days that you must enter into the website to verify. Once you do that, you will then be given your own referral link. Come back here and leave me your referral link in 20 comments to get all of your entries.
This giveaway is open to legal US residents 18+ only and will end on Monday, July 25 at 11:59pm EST. One winner will be chosen at random using Random.org and will be posted on the Winner's Announcement Page. Winner has 48 hours to claim his/her prize otherwise a new winner will be picked. Please leave your e-mail address in all of your comment(s) so I can contact you. I will not share your e-mail address with anyone, it will strictly be used to notify you if you win. Good luck!
Please note that the opinions and views expressed in this review are my own and based on my personal experience with the product and/or company. You may encounter a different experience with this than I did. Seventh Generation provided me with a free product, information, and giveaway through MyBlogSpark.