Recently my stepfather's daughter became engaged. I had the pleasure of seeing the lovely couple a few days after the big event and they are so happy, it is so wonderful. I love hearing the story of how a man proposed and got down on one knew, etc. It all just so romantic! Plus I got to get an up close look at the ring. It.Is.Gorgeous. I quickly realized that I really love beautiful sparkly diamonds - what woman doesn't right? So sparked by the luster of her new ring, while procrastinating online the other day (shhh, I do that a lot) I started looking around at diamond engagement rings. Just for fun because obviously I already have an awesome one. I just like to ooooooooh and aaaaaaah at all of the sparkly diamonds, unique settings and see what the latest trends are.

I came across Since1910.com and found that they have a large selection of Tacori designer engagement rings. Some of these are just stunning. Here are a few of my favorites.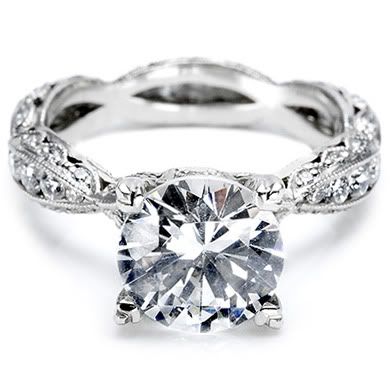 Tacori Criss-Cross Channel-Set & Pave Diamond Engagement Ring
Tacori Solitaire Engagement Ring with Pave Diamond Halo
Tacori Sapphire Shield-Cut & Pave Diamond Engagement Ring
I absolutely love the one with the Sapphires on the side. I think it would look even prettier with Tanzanite! The colors just really pop with all of the diamonds around it.
I could seriously do this all day long - diamonds are a nice distraction! However that wouldn't be very productive of me. And you know, I do have kids here I need to look after.
What is your favorite style or cut for an engagement ring? Do you like all diamonds are some color mixed in?