There has been no escaping the build up to the Royal Wedding of Prince William and Kate Middleton. The media coverage has been beyond extensive. But until last week I never actually thought about watching the wedding. Then my husband informed me that PBS will be airing the BBC's live coverage starting at 3:00 AM EST on Friday morning, April 29, and that he will be getting up to watch it. My husband is a history junkie so he wants to see the ceremony and all of the pageantry. So I told him to wake me up and I will watch it with him.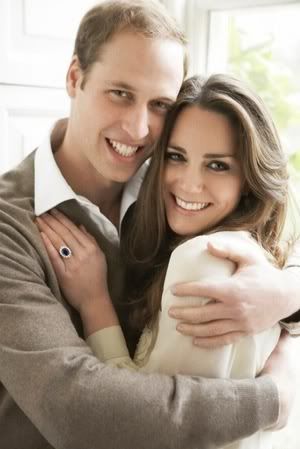 Official engagement photo by Mario Testino.
Then I started thinking more about it and I may take that back. Do I really need to be up that early to watch it live when surely all of the networks will be showing clips of it over and over and over again for who knows how long? Or I could even just hop onto my iPhone and watch parts of it on YouTube whenever I want. Is live really better?
So I am still torn on whether to get up with him or not. I guess a lot of it will depend on if I am able to get to bed early Thursday night, which is highly unlikely. I am jealous of you West Coasters right now since for you it will be starting around 6:00 AM. I'm usually up by then anyway.
What about you? Will you be getting up early to watch the Royal Wedding live? Will you just watch it later in the day? Or do you not even care to watch it at all?