The second season of Jamie Oliver's Food Revolution kicked off last week and I have to say the first episode was pretty darn good. I was a little surprised to learn that the LA school district was refusing to let him into their schools. Why? Could it be because they are serving the kids tons and tons of junk? Why yes, yes it it. Since Jamie couldn't get into the schools, he invited parents in the community to bring the school's food to them. And what they brought to him was quite simply frightening. Plastic packages of process danishes and other sweets that no kid should eat for breakfast. The parents even said that a lot of the food is heated in the plastic. Bleh.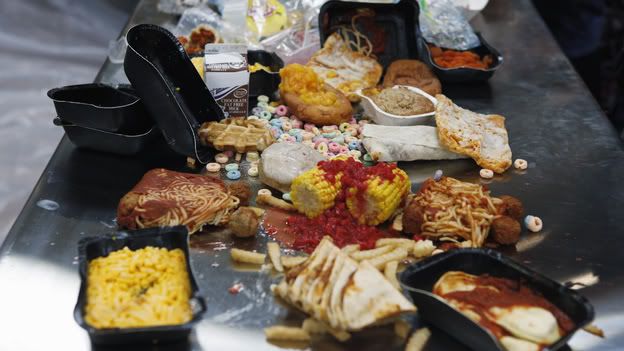 Photo Courtesy of ABC
The biggest draw dropper for me though was Jamie's demonstration on ground beef. He explained a process used in the United States where the scraps of meet that are left are put into a centrifuge to separate the bits of meat that are left out. Those bits of meat are then washed with a mixture of ammonia and water and then ground up. Jamie calls this "Pink Slime" and meat manufacturers are allowed to mix it into the regular ground beef. The US government does not require that our meat be labeled that it has been treated with ammonia, which is just disgusting. Maybe it is just me, but I sure do not want to be ingesting ammonia. If you haven't seen it, I suggest you watch the 5 minute clip about the "Pink Slime."
I don't know about you, but that sure as hell has me questioning what is in our ground beef. Jamie suggests that the only way to know what is in it is to watch the butcher grind it himself. Well i certainly cannot afford to go to a butcher, but I am debating about buying a meat grinder and doing it myself. We eat our fair share of burgers during the summer and I would rather they not contain toxic chemicals.
What did you think of episode one and the Pink Slime? Will you be changing how you buy your ground beef?