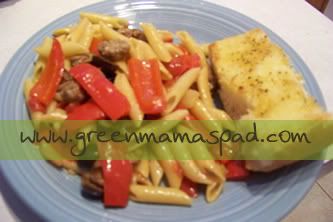 Sorry, I don't have a clever name for this recipe and I apologize for the blurry picture. I will say that this is by far my husband's favorite dish that I make.

If possible, use as many organic ingredients as you can. I know it can be tough financially, so if you want to pick just one ingredient to be organic, do organic peppers. Bell peppers are #3 on the Environmental Working Group's "Dirty Dozen" list for produce that retain/contain the highest amounts of pesticides.


Main Dish Ingredients:
1 lb of your favorite pasta
1 lb sweet Italian sausage links, casing removed and cut into bite sized pieces
3 to 4 red bell peppers sliced into thin 1-2 inch strips
1 medium yellow onion sliced
1/2 cup of olive oil
1 can diced tomatoes, drained
1 can olives, drained and halved
salt & pepper to taste

Instructions:
1. Cook sausage over medium heat until browned/cooked through. Set aside.
2. Heat 1/2 cup olive oil in large pan over medium-low heat. When heated, toss in onions and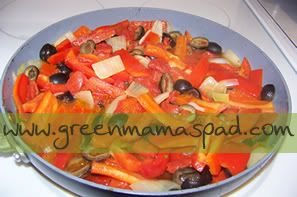 cook for about 5 minutes.
3. Add in peppers, tomatoes and olives. Mix well. Add salt and pepper to taste (optional) and simmer for about 5 minutes.
4. Reduce heat to low, partly cover pan and let lightly simmer for 35 minutes. Stirring Occasionally.
5. Add sausage to mixture about half way through cook time.
6. Meanwhile, bring pot of water to boil and cook pasta as per package instructions. I like to put in a splash of olive oil to keep the pasta from sticking. Plus a dash of salt.
7. Drain pasta and return to pot. Pour sausage and peppers mixture over pasta and mix well.
8. Serve with grated cheese and garlic bread.


Garlic Bread Ingredients:
Loaf of Italian Bread (or your favorite bread), cut in half lengthwise
Stick of butter, softened
Frontier Organic Garlic Bread Seasoning (or similar)

Instructions:
1. Slather a good amount of butter over the cut side of both halves a bread. I mean A LOT.
2. Sprinkle with garlic bread seasoning.
3. Place in toaster or oven, preheated to 325, until crispy and golden.