You may be wondering why I think shopping at Costco is a good Going Green Tip. For starters, shopping at any warehouse club is good because you can buy in bulk. In most cases this means less waste. Instead of buying a small bottle of laundry detergent at the grocery store, here you can buy a jumbo bottle and then you don't need to buy it as often. Buying less bottles = less plastic use = less petroleum use...all good things!! I also love Costco because they have so many eco-friendly options now and keep adding more. So let me get to the story that led me to this post.

These days, its not too often that I actually make it to Costco myself. Dragging 3 boys through the store is not my idea of a fun day. So I usually send my hubby there with a list of things to pick up. Well the other day, I finally got to go. After we dropped W off at preschool, we headed to Costco with L and J. The heat is killing me so I figured we could spend a little time in the air conditioned store while getting things we need.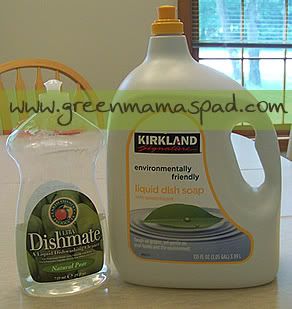 I mentioned how they have lots of eco-friendly options now and every time I get there they have even more! I've been buying a lot of their organic stuff to begin with like the Kirkland Organic Peanut Butter (so yummy) or Kirkland Organic Animal Crackers. However, this trip I was in the market for some new items. The first new thing I grabbed was the Environmentally Friendly Dish Soap. Not for the dishwasher but for hand washing dishes. I know this has been available for a little while, but I was still finishing up my Earth Friendly dish soap. What is so great about this is the bottle is HUGE; I honestly think it will last me a year. Just to compare, in this picture the small bottle of soap I have been using is 25 ounces for about $2. The big Kirkland bottle is 135 ounces - that is more than 5 times the size and cost me about $8. .So it saves money too!

The next item I had no plans on purchasing because I didn't even know they had it. W used to love milk as a toddler, but in the past year or so not so much. I've been buying organic milk and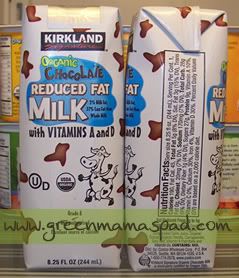 organic chocolate syrup to mix in for a morning cup of milk, but he still doesn't drink all that much. For L I have to mix in some Stonyfield drinkable yogurt to get him to drink some milk and J just doesn't drink milk at all. Period. So while we were wondering around the juice aisle, I saw these Kirkland Organic Chocolate Milk juice box type things. This made me really excited because the boys love juice boxes, no matter what kind of juice is in them. So I'm thinking this may be a good way to get them to drink their milk. While I am not thrilled about the extra garbage, I figure its just an experiment. At least I can send milk to school with W now and just maybe J will take more than one sip. Which in the past was followed by a dirty look and tossing of the sippy cup. After our first test run, W loves them. The twins - not so much. I am not giving up though.

What other cool "green" stuff does Kirkland have? Off the top of my head I have seen organic soups, organic breads, organic milk, environmentally friendly laundry detergent and so on. Oh and I've seen Giovanni hair care and body care products there as well. While I was checking out their website a few moments ago, I discovered that they sell packs of Bumkins cloth diapers! I had no idea - so very cool.

What organic/natural/eco-friendly products do you love from Costco? I want to explore some more!

Side note: I only discussed Costco Wholesale Club because its the only one near here and so the only one we go to. Others like BJs and Sam's Club may have great eco-friendly options as well. If you know of any, please share them!