In April I featured a giveaway from GreenSmart for a laptop jacket. What is so great about them is that all of their bags are made from recycled plastic PET bottles. I just love that they turn trash into cool products! Well now they have come out with an eco-friendly version of neoprene called Neogreene!

Hold on a minute. What is the problem with traditional neoprene you ask?


"Few people are aware that neoprene (polychloroprene) is a synthetic rubber, which uses 1930s technology to form a material that is almost impervious to other chemicals. Neoprene requires multiple manufacturing steps, including ulcanization, which makes neoprene wonderful for industrial applications like gaskets where strength and durability are critical. For consumer product application, gluing fabrics to the neoprene requires aggressive solvent adhesives which can form a bond with the neoprene. These adhesives can contain a wide variety of potentially harmful chemicals depending on the supplier; from toluene to formaldehyde, which can be easily noticed by the distinctive "chemical smell" of neoprene, the VOCs."
Neogreene looks and feels like traditional neoprene (stretchy and cushioned) but with none of the toxins. It also uses 25% less petroleum and 25% less energy to manufacture. There is so much more to being a green product than simply materials used - so I love that production of Neogreene is more efficient. At the moment, GreenSmart has
laptop sleeves
and
bottle totes
available in Neogreene and should be branching out to include even more products in 2010. They were generous enough to not only send me both a laptop sleeve and bottle tote to test out, but even a stainless steel water bottle.
First I was sent a 160z Innate stainless steel water bottle along with the short Neogreene bottle tote. I have to say that this water bottle is my favorite of any others I have tried, and I have a few. My favorite thing about it is the little pop-up top. I've used others with pop-ups that it was a struggle to get the water out of. Not the case here, the water flows effortlessly. My biggest gripe with stainless steel bottles is that since they aren't insulated, the water warms rather quickly and then you are also left with condensation all over the outside. I brought my bottle and tote with me to pick up W at preschool on a hot day. After about 1.5 hours the ice was all melted but the water was still nice and cold. I would say it kept it at a nice cool drinking temperature for a good 2 hours or so. Without the tote, I'd be lucky to get 30 minutes (in my past experiences). And while the bottle did still sweat and had condensation, the tote served as a barrier so there wasn't a puddle of water in my car. Oh and it will also help keep warm beverages warm - it is just too hot for that here right now though. I also love the carabineer clip because you can hook it on just about anything - like a stroller!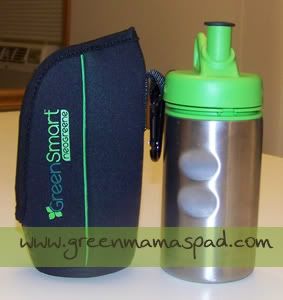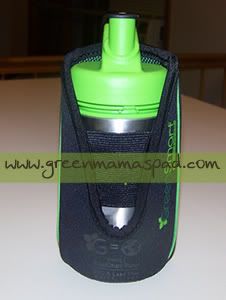 I was also sent a Neogreene laptop sleeve, that fits 13.3in. to 15.4in, to test out. I was so excited about this as I previously had nothing to protect my
best friend
laptop. This sleeve is super soft and squishy (I love the squishiness) and is waterproof. Such a plus in a house with 3 kids. The walls are 4mm thick for protection and the cool green mesh interior also serves as an insulator to help cool down your laptop. It is available in a variety of sizes so it is important that you measure your laptop!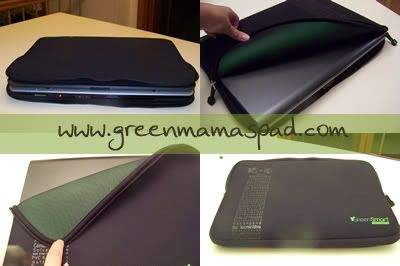 Overall i am so very happy with my Neogreene products. I actually want to get myself the larger Innate bottle with the larger bottle tote because I chug water like crazy and W has been eyeballing my small one. Little stinker. I look forward to seeing what other Neogreene products are offered in the future.
Shop
You can order all Neogreen products from the GreenSmartDirect.com online store. They may also be purchased at various online retailers. Currently, GreenHome is having a sale of 20% Neogreene laptop sleeves - this week only.
***Giveaway Closed***
Win
GreenSmart will send one lucky winner the small Innate water bottle along with the short Neogreene bottle sleeve!
Mandatory Entry
Visit
GreenSmart and tell me something that you learned about the company and what other products of theirs you like.
You must complete this entry before you can submit additional ones.
Extra Entries
- Follow me on Blogger or subscribe to my RSS feed
- Subscribe via e-mail. Your email must validate or it will not count.
- Blog about this giveaway with a link to Green Mama's Pad and GreenSmart. Please leave link in comment.
- Add my Green Mama's Pad button to your sidebar or add Green Mama's Pad to your blogroll. Leave your blog link.
- Follow GreenMamasPad and GreenSmart on Twitter and and tweet this giveaway. You can tweet once daily. Leave link to tweet in comment. You may use this text if you like:
Win a Neogreene bottle tote and Innate water bottle! http://bit.ly/13M2bA @greenmamaspad
@begreensmart
- Fave me on Technorati and comment with your ID.
- Stumble this
post
and comment with your ID.
- Become a fan of both Green Mama's Pad and GreenSmart on Facebook.
- Leave a comment on any non-giveaway post and let me know which one.
This giveaway is open to US Residents 18+ only and will end on Thursday, August 27th at 11:59pm EST. One winner will be chosen at random using Random.org. Winner has 48 hours to claim his/her prize otherwise a new winner will be picked. You must leave your e-mail address in all of your comment(s) so I can contact you. I will not share your e-mail address with anyone, it will strictly be used to notify you if you win. Good luck!
This review is based solely on my opinion and experience with these products. You may have a different experience than myself.