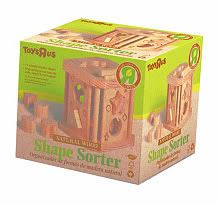 After my twins were born, I really tried to make an effort to buy less plastic toys with flashing lights and sound and more wooden toys. For their first birthday (2008) I stumbled upon a new line of "eco-friendly" toys made by Toy R Us. They have a variety of items made from natural wood with no paint or dyes and the wood is even FSC certified. They are very affordable, ranging from $9.99 to $19.99. From the manufacturer:


"..available only at Toys R Us, is both fun and forest-friendly. It bears the Forest Stewardship Council seal of certification and is decorated by a unique wood-burning technique. Crafted from replenishable materials that are chemical-free and eco-friendly, our natural wood toys make for good, green fun and safe play. No batteries required. Keep it natural with Natural Wood Toys from Toys R Us."
One of the things I love about these toys is that there is no paint, just wood-burning designs. The wood-burning is very nicely done. My gripe with some other wooden toys with paint is that they chip and that worries me. We had some wood baby toys (rattles, keys, etc.) from another company and the paint started chipping pretty easily. I was so concerned that my guys were ingesting that.
I bought three toys from this line: the
28 Piece Alphabet Block Set
, the
Shape Sorter
and Stacking Train. Unfortunately, I don't see the train on the TRU site anymore (though it is on the Canada site) so I don't know if it's been discontinued. Too bad, it is a great toy.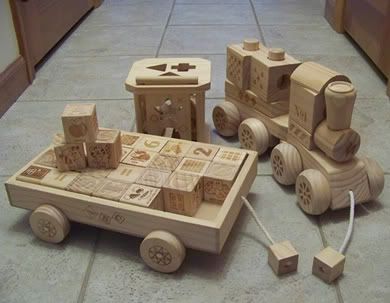 So we have had these 3 toys for almost a year now and they are still going strong. Believe me, they have taken a beating too. My boys are very hard on their toys – duh – there are three of them! When we first bought them for Luke and Josh, William played with them too (he was 3). Although William has moved on, the twins still play with them on a regular basis. I am more than pleased with my purchase of these toys. So if you are looking for some fun, natural wood toys for toddlers (age range 18 months to 3 years) I would definitely recommend checking these out.