Last Thursday I planted my seeds and it has been an exciting week for me since then. My husband thinks I'm nuts for getting all giddy over these, but it is so cool to watch your little plants grow right in front of your eye. And since this is my first time planting vegetables, it makes it that much more exciting. I honestly cannot believe how much they have sprouted already. Particularly the cucumber and zucchini seedlings, they are huge already. Let me share a few pictures.
Here they are on Tuesday (3/24), you can see there are little sprouts in the cucumber and zucchini containers. Nothing yet for the tomatoes and peppers.
Then here they are one day later (3/25). Look how much they have grown in just one day! William was so excited when he saw them yesterday. "Look mommy, your plants are growing!!"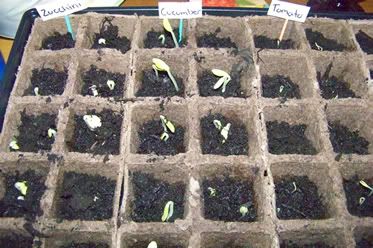 Finally, here they are this morning. I swear they have doubled in size. Now I also have tomato plants sprouting up. It amazes me how much has happened in the last 3 days.
As you can see the zucchini and cucumber plants are growing fast. I fear they are going to be huge soon and I will need to transplant them outside sooner than I expected. I suppose now I should figure out just where exactly I will put them outside. Nothing like waiting till the last minute to plan!
Ideally, I have a big empty flower bed up against the side of the house that gets lots of sun. I'd love to put them there, but is it OK to put a vegetable garden next to the house? The hose is right there too, perfect. There is also a sunny spot over on the other side of the house by the shed, but the hose is no where near that, I'm not sure it would even reach. What about planters on the deck? I know I can keep the tomatoes in planters, but what about zucchini and cucumber?
Where are my gardening experts? I'd love your insight on vegetable garden placement.