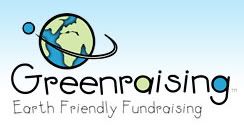 I think most of us are familiar with school fundraising. Even for those without kids, you've probably been asked by a niece, nephew or neighborhood kid to purchase something for a fundraiser. The problem with most of these school fundraisers? A lot of it is junk. While we are concerned with childhood obesity (as we should be) we then ask our children to go out and sell candy bars, frozen cookie dough and other unhealthy treats that are loaded with high fructose corn syrup, hydrogenated oils and lots of artificial ingredients.
Finally, there is an eco-friendly alternative to the typical fundraisers:
Greenraising
! A little bit about the company from their site:
Greenraising was started by the parents of elementary school children who watched how their school's parents associations struggled each year to raise the funds necessary to provide an excellent education, and who bought their share of cookie dough and magazines to help that happen. At the same time, they noticed that their children were coming home with concerns about the environment, pollution, global warming and living conditions in the world, and were feeling helpless to change things. A little research yielded a host of small things each family could do to help the situation, and a light bulb went off (well, technically a compact fluorescent bulb). Greenraising was created to help solve both problems: raise money for schools and give children an opportunity to learn that their actions can change the world.
What a wonderful idea! If you visit their site, you can see they have a wide variety of products to choose from. They have items like
recycled gift wrap
,
reusable water bottles
(like SIGG) and
reusable bags
. Looking for something
sweet
? Well choose one of their fair trade, organic chocolates. They even have fair trade, organic coffees and teas. They also have two ways to sell: online sales and traditional catalogs. The online feature is great. Customers simply shop and then just name your organization as the beneficiary (it must be registered first). It is easy and greener since there are no catalogs.
I'm passing this on to you all so you can then pass it onto your schools. Make your schools choose green fundraising and help them raise money while teaching our children about caring for the environment. My boys are not school aged yet, William won't start kindergarten till 2010. But when they are, I fully plan on presenting Greenraising to our schools. I would love to be able to cut out the junky fundraisers and replace them with one like this. I see many PTO meetings in my future!