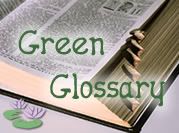 Is it just me or are there a lot of green terms out there that when you see or hear them you say "huh?" I found myself doing that today when doing some research and I thought there must be others out there like me. So I thought it would be helpful to start a "Green Glossary" series to help out. Here are my first two entries!

Post-Consumer Fiber
Waste paper that has served its intended purpose and has been separated from solid waste to be recycled into new paper. This is the paper that we place in our paper-recycling bins every week. It has reached the end user, and thus is qualified as post-consumer waste.
Pre-Consumer Fiber
This fiber has never seen a consumer. It usually contains leftovers and cutoffs from a paper mill's production process or the same from paper converting plants such as envelope manufacturers and printers. This paper waste is collected and shipped back to a paper mill for recycling prior to hitting the consumer waste stream.