Not very wordless today.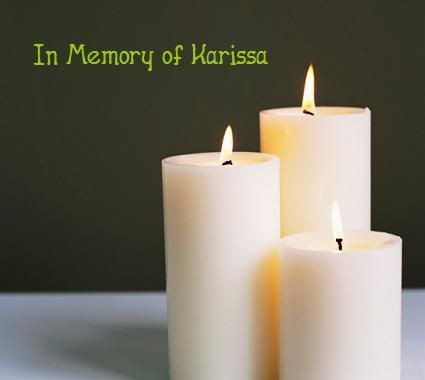 When I started blogging almost a year ago, one of the first blogs I found and fell in love with was
Prissy Green
. A blog dedicated to green beauty filled with great tips, reviews and giveaways and personality. Karissa (Prissy Green owner) was a blogger that I looked up to and admired. Several months later we became friends through the MomDot community. She reached out to me and befriended me and did everything in her power to help me and my blog since I was fairly new. She would check in and ask how my pregnancy was going and how I was feeling and even sent me a box of green products to pamper myself.
Yesterday after returning from the hospital I finally logged on to my email and the first thing I saw was that my dear Karissa had passed away. That Karissa had taken her own life. I was in shock. I am still in shock. How could this happen? She was such an upbeat and loving person and I never saw any signs that she was hurting so deeply. I wish I could have helped her, hugged her, done whatever it was she needed so that this would not have happened.
I love you Karissa and will remember you forever.