Every year, 80,000 tons of flexible plastic packaging are manufactured in Indonesia. Since there is no way to recycle this type of plastic, it will accumulate in landfills and sit there forever. Environmental activist Ann Wizer saw this problem and wanted to start something to combat it. So she started the XSProject.


"XSProject is the brainchild of visual artist and environmental activist Ann Wizer, who conceived of this initiative in the mid-90s while living in the Philippines. As an artist's expression against the ongoing ecological abuse caused by rampant consumerism and its subsequent nonrenewable waste, Wizer started utilizing trash as her primary material in designing costumes and installations. The first tote bags she produced from nonrecyclable plastic were accessories to the trash costumes used in her performances. Seeking to involve poor communities of trash pickers in an out-of-studio "intervention," Wizer created XSProject in 2002 in Jakarta, determined to focus on the development of sustainable solutions to the problem of unmanaged consumer waste. Wizer's quirky use of unlikely materials, including drinking straws and toothpaste tubes, demonstrates an inventive and creative way to reduce the increasing mountains of trash found throughout Southeast Asia. Each one of XSProject's handmade, one–of-a-kind products is made from consumer waste."

XSProject literally takes trash and turns it into fun, hip, eco-chic products. What is really awesome is not only are they taking trash and re-purposing it but they are also helping the local people in Southeast Asia. Unlike the sanitation workers here in the USA, the Trash Pickers in Southeast Asia make very little money. So in order to make a little more money, they pick the flexible plastic packaging out of the garbage and sell it to places like the XSProject.
They have quite an extensive range of products to choose from. Need some school supplies for the kids? XSProject has portfolios, notebook covers, pencil cases and lunch bags. Want to buy something fun for yourself? They also have laptop sleeves, tote bags and shopping bags and even laundry bins.
XSProject
let me choose two items to try out. I chose the "Beauty and the Beast Small" which is a Mini triangle-shaped makeup case and the "Coin Slot" which is a coin purse with zipper. I really do like both of these a lot. The makeup case I am actually not using for makeup, at least not now. I wanted something that I could put my iPod in and put in my bag and not have to worry about it getting scratched. There is plenty of room for my ancient iPod in this case.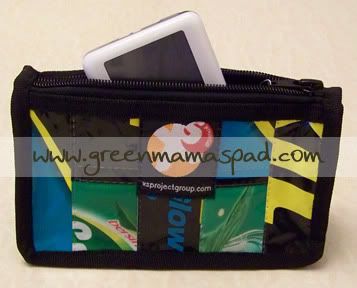 The description of the coin purse also said it would be good for business cards which is why I chose that. I have really nice looking Green Mama's Pad business cards that I need to start handing out, but nothing to put them in to keep them safe. The Coin Slot works great for that. In addition, when I got this I realized I could also fit my LG Shine cell phone in it. I usually just toss my phone in my bag which leaves it susceptible to being banged around, so this is great for protecting it.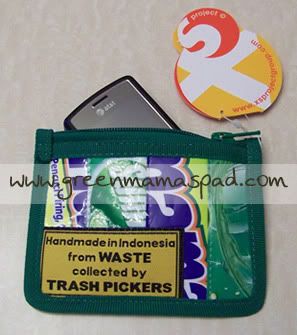 I love the vibrant colors and diversity of all of the products. The quality is wonderful as well, I know these are going to stand up to the beatings that occur in the bottom of my purse and last me a long time. :)
Please note that the opinions and views expressed in this review are my own and based on my personal experience with the product. You may encounter a different experience with this than I did. XSProjectUSA provided me with items for review.