When the weather starts getting super hot and humid around here, we start calling up friends and family with a pool for a visit. Let's face it, on a hot summer day, there is nothing more relaxing than floating about a cool pool. For comfortable, easy to use floats, Swimways has got you covered.


Swimways Spring Float
The
Swimways Spring Float
is not only comfortable, it is also extremely portable with its mesh carry bag. This make it perfect for trips to the pool, beach or lake and of course for pool mooching like we do. The patented spring technology allows the float to instantly pop open and easily folds closed. Since only the head rest and narrow tube around the edge need to be inflated, you don't need an air pump. My husband was able to blow this up himself in just a few minutes. Then just toss it in the water and you are ready to go.
The first person to try out the Spring Float was the 2.5 year old. He of course lost interest after 30 seconds, which is good because this is for mama!
Our 2.5 year old going for a ride.
As you can see the pool was a little crowded this weekend so there wasn't too much room for me to float around. I was soon joined by a 30 pound toddler on my lap.
When the clouds rolled in and the thunder started, we quickly got out of the pool and into the house. My husband was able to easily deflate and fold the Spring Float back up for me and put it back in its case. With 4 little ones about the pool, there is no time for me to take a snooze in this, but it is a good perch for me to lay on in the pool while I keep an eye on them all and stay within arms reach. Now all we have to do is find out who's pool we can invite ourselves to next weekend!
Shop
The Swimways Spring Float is available at retailers nationwide and on
Swimways.com
for $29.95 in a variety of styles and colors, including blue/aqua, white/aqua, pink/blue and aqua/blue.
Giveaway
One (1) lucky winner will receive a Swimways Spring Float for themselves. Color may very. Giveaway is open to US residents only and ends on July 27, 2012 at 12:01 AM EST. Please use the Rafflecopter form below. Good luck!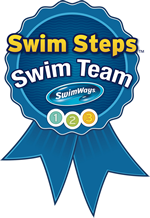 I am participating in this review and giveaway as part of the Swimways Swim Steps Swim Team. Please note that the opinions and views expressed in this review are my own and based on my personal experience with the product and/or company. You may encounter a different experience with this than I did. I received free product to review.

a Rafflecopter giveaway