Not so long ago, eco-friendly office supply options were few and far between. Sure you could find recycled computer paper and maybe a recycled paper notebook, but there wasn't much else. Now that consumers are starting to pay more attention to the products they buy and how said products affect the environment, the demand for sustainable products has grown. Thanks to Sustsainable Earth by Staples, you can fit your home office with products you can feel good about!



My home office has been temporarily relocated to the kitchen table until the kids go back to school.
These eco-preferable products are made with renewable resources, recycled materials and/or are third-party certified to validate their environmental attributes. I received a clipboard, a spiral notebook and a mouse pad from the Sustainable Earth line to try out. Obviously the thing I like most about these products is their sustainable qualities, but I also love that they have some color and style to them. Gone are the days of boring just brown recycled paper products!
The Clipboard is made from 100% recycled paper board and has a low-profile clip for easy storage and a built-in hole so you can hang it up. Purple is my favorite color so I love my new clipboard. It is sturdy and was great on my trip out to Detroit a few weeks ago. It is available in sorted colors. $2.99
The Mouse Pad is made from 75% recycled rubber from used car and truck tires. It has a non-skid bottom and can be used with both a standard mouse and an optical mouse. I have been using it with my wireless optical mouse. I like the three nature inspired designs this mouse pad is available in: Ladybug, Blades of Grass and Earth Paisley Design. $8.99
I love the Sustainable Earth by Staples Spiral Notebook because it has a unique quality. It is NOT made from recycled paper. Instead, the notebook and paper are made from sugarcane by-products, which means fewer trees are cut down, and a rapidly renewable resource is maximized. There are a variety of designs available, including the pretty floral one I received.
I was surprised when I opened up my notebook to find a folder inside. This is definitely a neat and handy feature. For me it is great to put product info and press releases into while I am working on a post. The notebooks are available in two sizes: 9 1/2" x 6" size ($3.49) and 8 1/2" x 11" ($4.49).
Sustsainable Earth by Staples
offers so many more products then what I have featured here today. From recycled computer paper to calculators and staplers made from recycled plastics. They even have natural cleaning supplies. If you are looking to make your home office (or work office) more eco-friendly, you definitely need to take a look at all they have to offer.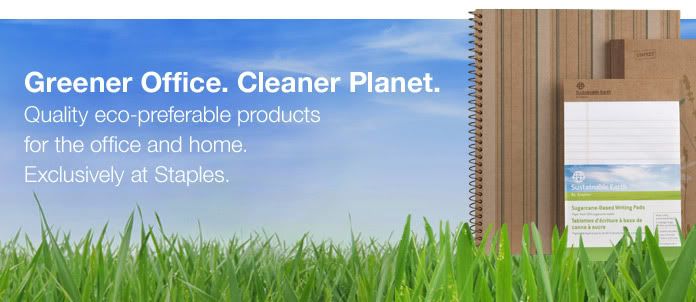 Please note that the opinions and views expressed in this review are my own and based on my personal experience with the product and/or company. You may encounter a different experience with this than I did. I received free product to review.