Not very many movies come along that make me want to pack up all of the kids in the car and head for the movie theater. Bringing our family to a theater is quite an expense. However, we were very excited for Dr. Seuss' The Lorax and we did in fact pack up the family to go see it. We do have The Lorax book so my 7 year old is familiar with the story. Like most kids, he loves all Dr. Seuss books and as a bonus, The Lorax has a message that mommy enjoys talking about. We have discussed what happens to the trees and the Earth in the book and how important it is for us to take care of our planet.


So on Sunday we first dropped our 2 year old off at Grammy's house and then the rest of us were off to check out the orange mustache. While we waited for the movie to start, The Lorax shared some fun Connecticut tree facts with us on the screen, like that the largest tree in the state of Connecticut is a Sycamore on the Farmington River. I thought it was pretty cool that they included those.
When the movie starts, you are introduced to the town of Thneedville, where nothing real grows. They are secluded from the rest of the world and everything is made of plastic, even their trees. The air is so polluted that they need to buy fresh air just to breathe. Ted sets out to look for the Once-ler outside of town, to learn about what happened to all of the trees. If he can bring a real, live Truffula tree back to Thneedville, it would impress Audrey, the girl of his dreams.
The Once-ler tells Ted about how he came to this place searching for the perfect material to knit his Thneeds. Of course the tufts of the Truffula trees were what he needed. After cutting down the first tree, The Lorax is summoned and tells The Once-ler how important the trees are and asks that he stop chopping them down. After some bickering, The Once-ler promises to not cut down any more trees. Until the day his Thneeds become popular and he breaks that promise. He starts cutting down more and more trees until all that is left are stumps, rivers of gunk and smog filled air. The Lorax sends away all of the animals to find a better place to live and picks himself up and leaves as well. For years The Once-ler lived alone regretting everything he did. But now that Ted has come to hear his story, there is hope for the trees. Ted is given the last Truffula seed to bring back to Thneedville to plant in the center of town. To make people care about trees again.
So what did we think of Dr. Seuss' The Lorax? We loved it! It has a little bit of everything: beautiful animation, cute animals, music, humor and a message. You immediately fall in love with Dr. Seuss' whimsical animals, especially the cuddly looking
Bar-ba-loots. My kids literally laughed out loud during the movie and when we got in the car they immediately asked if we could buy it for home. For me as a green mom, I thought the film was a great way to reach out to kids about taking care of the environment. At the end, when Ted is planting the last Truffula seeds and the people of the town are singing "Let it Grow" I watched and cried. I might be a giant sap, but I just thought it was very moving. And motivating as it makes me want to run out and plant trees everywhere!
We all need to listen to the words of The Lorax and we all need to start speaking for the trees! If you want to spread the message of hope and speak for the trees, head on over to
Dr. Seuss' The Lorax on Facebook
. There is even a mobile phone app that let's you add a mustache to your pictures. I downloaded this last night so I could do it for one of my four year olds who is obsessed with 'staches!
Stonyfield partners with The Lorax.
We are big Stonyfield eaters in this house and for the past few weeks, my kids have gotten a kick out of seeing The Lorax and his super cool mustache on the tops of some of their YoKids yogurts. If you visit theYoKids website at
www.yokidsyogurt.com
, you can enter a pretty awesome giveaway for a chance to win a special screening of Dr. Seuss' The Lorax and an organic garden for your school.
Earlier this year, Stonyfield released a new line of kids yogurt: YoKids Greek. This is the first organic Greek yogurt made especially for kids. I was hoping that Stonyfield would eventually create something like this so when they announced YoKids Greek I was super excited. They first rolled it out in natural food stores and now it is available at most major supermarkets. I am still waiting for it to arrive to my local Big Y or Stop & Shop and I check regularly for it. I am anxious to get my hands on some for my kids to try. YoKids Greek is packed with more protein than traditional yogurts and with a few children who are not so great about eating protein rich foods, this would be a nice way to sneak some in.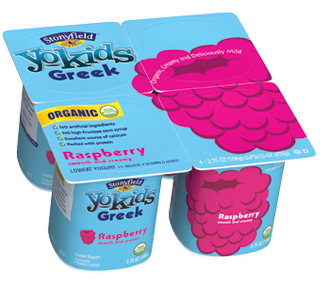 Giveaway
This is going to be a quick, 48-hour giveaway because I want the winner to get his/her prize as soon as possible. One (1) winner will receive a The Lorax / YoKids Greek Gift Box that includes:
• Two (2) free passes to see The Lorax in theaters
• A copy of Dr. Seuss' The Lorax book
• YoKids coupons with organic basil seeds
• YoKids Temporary Tattoos
• YoKids Lunch sack
This giveaway is open to legal residents in US only, 18+ only and will end on March 14, 2012 at 12:01am EST. One winner will be chosen at random using Rafflecopter and will be posted on the Winner's Announcement Page. Winner has 48 hours to claim his/her prize otherwise a new winner will be picked. Please allow 6-8 weeks for delivery. Prize fulfillment is the responsibility of the sponsoring company. This blog and its author are not responsible for giveaway prizes that are lost in transit or damaged. This blog is also not responsible if a sponsor/company does not send prize(s). Naturally, I will communicate with said company(s) several times, and make every effort to resolve the issue. Good luck!
I received free movie passes for my family to see The Lorax in theaters. All thoughts and opinions are my own.

a Rafflecopter giveaway