I cannot believe we are almost one week into August already. This summer is flying by!

Please add both your green and non-green giveaways and contests into Mr. Linky below so we can do some giveaway hoppin! Be sure to include the expiration date. Thanks!

You can also submit your green giveaways to me during the week for me to feature on Fridays.



The Alternative Consumer
Ecolissa $50 Gift Certificate 8/9
Blogging Good News
Tropical Traditions Organic Canadian Raw Honey 8/28
Crunchy Beach Mama
Cottonfield Organic baby Onesie 8/10
Family Focus Blog
Shop to be Green $30 GC 8/4
Starbucks $10 GC 8/5
$75 GC Heirloom Toys 8/17
Baby Bullet 8/22
The Mom Buzz
Bobble Lunchbox 8/20
Mommy of Two Little Monkeys
Happy Baby Organic Baby Food 8/10
Mommies 2 Cents
The Original Baby Bullet 8/12
Outdoor Living
Solar Fountain 8/31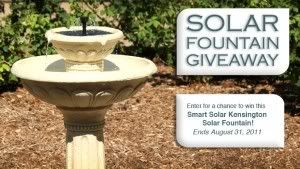 Small Steps On Our Journey
Shaklee Basic H2 Organic Cleaner 8/8
Thanks Mail Carrier
Zoe b Organic Biodegradable Beach Toys 8/15