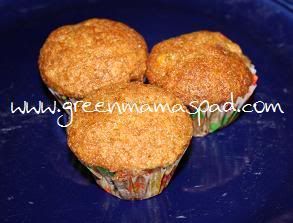 Having a child with a dairy (milk) allergy I am always looking for dairy-free recipes that also taste good. This can be tricky as often times the result tastes slightly off.
I am in no way a "foodie" or expert in the kitchen. However sometimes I am good at taking parts of several different recipes and combining them together to make my own recipe that suits our needs. This happened over the weekend when I put together this dairy-free Banana Muffin Recipe. These turned out so moist and delicious. Everyone gobbled them up!
Now I used a mini muffin pan and it yielded about 30 mini muffins. You can also use a traditional size muffin pan and I am guessing this would yield about 10 muffins, give or take.
Ingredients
(use organic whenever possible)
1 cup all-purpose unbleached flour
1/2 cup whole wheat flour
1 teaspoon baking soda
1 teaspoon baking powder
1/2 teaspoon sea salt
1/2 teaspoon nutmeg
3/4 teaspoon cinnamon
3 very ripe bananas, mashed
1 egg, lightly beaten
3/4 cup white sugar
1/3 cup packed brown sugar
1 teaspoon vanilla
1/3 cup canola oil
Directions
1. Preheat oven to 375 degrees F (190 degrees C). Lightly grease muffin pan or place in muffin liners.
2. In a large bowl, mix together dry ingredients (flour, baking soda, baking powder, salt, nutmeg, cinnamon). In a second bowl, beat together bananas, egg, sugar, vanilla and oil.
3. Stir the banana mixture into the flour mixture until moistened. Do not over mix. Spoon into muffin cups, filling about 2/3 up.
4. Bake in preheated oven. For mini muffins bake about 15 minutes. For full size muffins, bake about 20 minutes. Insert toothpick into center of muffin to test.
Enjoy!