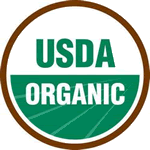 As you probably know by now, I believe that the more organic foods you can buy the better. Is everything I buy organic? Absolutely not, not even close. We simply cannot afford that. So I prioritize and make sure that every day staples like milk, yogurt, peanut butter, bread and many produce items are organic. I do think there is a little misconception going on out there about some of the more processed organic foods. Organic does NOT equal healthy, yet I'm starting to see a trend of people thinking this way. Has anyone else noticed this?
Recently I was visiting somewhere and I was offered a glass of organic lemonade. Immediately my 5 year old shouted out that he wanted to try some. Now we do not give our kids sugary drinks. They drink milk, water or watered down 100% fruit juice. My husband and I don't drink soda or other sugary drinks either so there is never any in the house. So when we were offered the organic lemonade the first thing I did was grab the bottle to check the ingredients. My husband laughed and rolled his eyes and then our host said this:
"Oh its OK, its organic!"
That is all well and good, but I still read labels before letting my kids eat or drink something. So OK, the first ingredient was water - great! The second ingredient? Organic sugar. <insert buzzer sound> Now this is my point, yes its organic so that means no high fructose corn syrup or other yucky artificial stuff, but the 2nd main ingredient is sugar. Big whoop its organic, it is still a lot of sugar, which my kids certainly don't need. Because my boys aren't rambunctious enough on their own, let me load them up on some sugar too! No thank you.
I did end up giving my 5 year old about a quarter of a cup and I told him that after that he could drink water. And yes, I drank a glass myself. I wont lie, it was very tasty. But organic or not it is still empty calories so its not something I indulge in very often. My rear end is large enough. :) A little treat from time to time is nice though.
So I strongly encourage you to always read ingredient labels. Whether its non-organic or organic, start getting into the habit. And don't assume that just because something is organic that it is healthy.