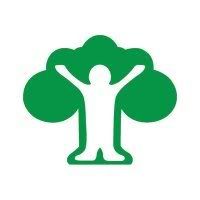 Something I have come to appreciate more as my journey as a mom has moved forward is the importance of quality educational toys. I think this is probably something that I became more aware of once my twins started speech therapy and occupational therapy (motor skills). Now my kids have more than their fair share of regular toys like action figures, cars, etc. But I have realized that is also important to balance it out with fun educational toys as well.
Growing Tree Toys is an online toy store with a huge selection of quality, educational toys for every age group imaginable. One of the things I like about this site is how easy that make it to shop. On the left hand side they have several navigation bars so you can find toys by age, department or brand. The age range one is my favorite; when I was looking fro something for my 3 year old twins it took just 1 click to bring up toys in that group. Then once that list is brought up you can narrow your search even more. Growing Tree Toys even has a section for eco-friendly toys!
"GrowingTreeToys.com is more than just a toy website – it's the perfect virtual representation of our store, offering customers the amazing service, wonderful toys and robust features they deserve while shopping online. Featuring a carefully chosen, well-rounded toy selection, unique product details and descriptions, great information on play, helpful suggestions for gift givers, the best gift finder available, and so much more, GrowingTreeToys.com is truly a specialty toy website with the health and happiness of children at heart."
Earlier this year I joined he Growing Tree Toys Blog Sponsorhip Program and I was able to pick a toy to test out. As I mentioned my twins receive therapy for both their speech and motor skills so I wanted to get something for them that could help in one of these areas. Growing Tree Toys makes it super easy to find a toy based on needs like this. When you pull up the details of a toy on their site, it will tell you the kind of developmental benefits that specific toy has. You will see something like this key on the product page and you can click for details on what each means.

Growing Tree Toys gave me a nice selection of toys to choose from and I went with the Dress Up Pirate Toy by Manhattan Toys. For starters I thought it was adorable and what little boy doesn't love a pirate right? More importantly, using the key I showed above I knew that this toy would help with things like hand eye coordination, colors and even self help skills at it can help show your child how to use a button, zipper, etc.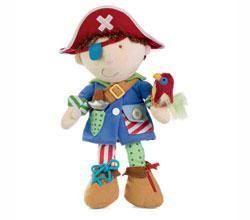 "Dressing like pirate will become easy with the Dress Up Pirate Toy, and growing toddlers will be able to learn important skills while playing with their new pirate friend. A soft plush doll, the Dress Up Pirate Toy features multi-colored and multi-textured fabrics to explore, as well as buttons, snaps, ties, zippers, and hook-and-loop closures to help teach important dressing skills."
This toy is listed for ages 18 months to 3 years but I feel it can used up to 5 years. When we received this my 5 year old son played it with it too and I know it helped him learn how to fasten and open tricky buttons. I plan on using it to help with shoe tying when we reach that point. But I mainly wanted it for my twins. The biggest problem I had? There was only one! As any mom of multiples will know when you get only one of a new cool toy, multiple fights ensue! However when the fights subsided and they played with it they really liked it. And I loved how quickly they learned how to open and close the zipper. Proof that it really does help with these skills.
Now that summer is here, Growing Tree Toys has a ton of outdoor toys to browse through. And they always have free standard ground shipping when you spend $75 or more. Before you know it the school year will be starting up again and that means your kids will be going to lots of birthday parties. So be sure to check out Growing Tree Toys to find the perfect gift for your child's BFF!
Please note that the opinions and views expressed here are my own and based on my personal experience with the site and product. You may encounter a different experience with this than I did. As part of their Blog Sponsorship Program, Growing Tree Toys sent me this toy to review. This is no way impacted how I reviewed the product.