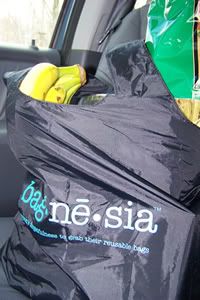 What do you have in your reusable shopping bag today? Some bread, milk, fruits and veggies? Oh and maybe some lovely E. coli too! Wait, what?!? Yes, your cute bag may also be filled with some unwanted bacteria.
A new study done by the University of Arizona and Loma Linda University (California) found that 97% of people do not wash their reusable bags. Unfortunately I am one of them and really I should know better. It is kind of a no brainer I suppose, but yet I never even thought about it.
This study looked at 84 bags and more than half of them contained coliform and heterotrophic bacteria and E. coli was present in 12% of the bags. Don't worry too much though, the strains that they found aren't likely to make anyone sick.
So obviously we all need to make a point to wash our bags. Make sure you check the manufacturer's washing instructions before you wash so that you don't ruin any bags. I think at a minimum you should wash your bags once a month. My goal is going to be every other week.