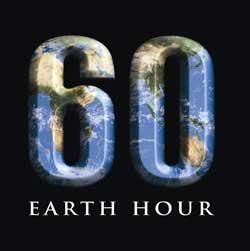 For some reason, Earth Hour snuck up on me this year. It wasn't until Hyla at Green Earth Journey sent me an email invitation this afternoon that I realized it was this weekend.


On Earth Hour hundreds of millions of people around the world will come together to call for action on climate change by doing something quite simple—turning off their lights for one hour. The movement symbolizes that by working together, each of us can make a positive impact in this fight, protecting our future and that of future generations. Participation is easy. By flipping off your lights on March 27th at 8:30 p.m. local time you will be making the switch to a cleaner, more secure nation and prosperous America.
The Earth Hour site also offers various
tools
to help spread the word and get more people to participate in this event. You can download toolkits and logos, get widgets like the one bleow for your site or blog and they will even update your Twitter and Facebook statuses for you.
I know you may think that 1 hour is nothing and it won't make a difference. But I don't think that is true. 1 hour from millions of people is a lot. It is more than saving energy for one hour. It is about people coming together around the world to show that we care for this planet and that we want to make a difference.
I plan on turning our lights off. Honestly, this exhausted mom of 4 will probably just go to bed.
I hope you will participate too.