Sometime after I became a stay-at-home-mom, I fell into a frumpy rut. Yes I became part of the stereotype - the mom who rarely wears makeup and barely has time to shower. When I decided to ditch chemicals and start buying more eco-friendly things, my toxic makeup was some of the stuff to go. Now while I have replaced that makeup with natural options, I have 1 natural eyeshadow and 1 natural eye liner, I had yet to find a natural lipstick that I liked. So on the rare occasion that I actually wore makeup, I had to go with the bad stuff.

I was recently introduced to FaceFacts by Lori, a company that makes natural, high quality lipsticks and lipliners. FaceFacts was founded by professional makeup artist and mom of 6 Lori Hoffmann. "Always a student of beauty color palettes, and an active participant in the growing natural products trend, Lori has committed her vision, resources, and talents to create a unique color cosmetic line using the highest quality, all natural ingredients that also provide tangible functional benefits."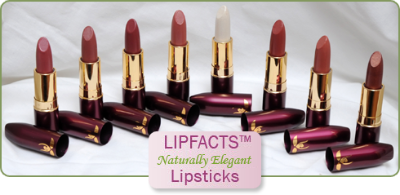 A little bit about LipFacts Lipstick:
100% Natural, color-rich, longwearing, ultra emollient formulation in shades ranging from natural beiges and browns to vivid plum and burgundy. The creamy base conditions lips and provides a stay-put stain. Botanical ingredients provide nourishing moisturizers, smoothing waxes, non-greasy oils, and vitamins. Our White Stick contains a high brilliance and iridescence which customizes the other shades when applied beneath or on top. Gently scented with Ylang Ylang.

Lori was kind enough to send me a few of her
LipFacts
lipsticks and lipliners to try out. Let me start off by telling you a little bit about the eco-friendly packaging. The paperboard boxes that the makeup comes in are manufactured using renewable wind power energy, are FSC certified, free of elemental chlorine and are recyclable. The makeup itself is 100% natural, not tested on animals and made in the USA. They are also free of parabens, mineral oil, petrolatum, certified dyes & lakes, and lead. The LipFacts lipliner pencils are made from sustainably harvested California Cedar Wood.
I has requested the Berry Mauve lipstick to try out and Lori sent me some lipliner to go with it as well as the Ivory Frost lipstick which she told me can be applied over any other lipstick color to create a new color. Fun! The first thing I noticed about the lipstick is how creamy it is. I hate lipsticks that dry out my lips, and it has happened, but this went on very nicely. I was also impressed with how long the color lasted. On the first day of trying these out, I went to an NHL Hockey game (NJ Devils) and my lips still had a nice amount of color when the game was over. Now for the Ivory Frost, I will admit I was a little skeptical at first of how it would look over the Berry Mauve. But I went for it and tried it out and I was pleasantly surprised. It softened the color a little and gave it a subtle sparkle. I tried my hardest to get pictures of the difference, but its pretty hard taking pictures of your own lips.
Here are my lips with LipFacts Berry Mauve Lipstick and LipFacts Hazelnut Lipliner. A nice color for my complexion. The picture really does not do it justice. It is darker in real life.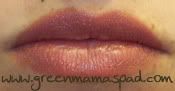 Now here are my lips just moments later with the LipFacts Ivory Frost Lipstick applied over it. I know it is extremely difficult to see a difference, but I swear there is one. It is a little lighter with a nice shimmer to it.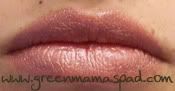 Overall I was very pleased with both the lipsticks and lipliners. As of right now the only products that FaceFacts offers are these LipFacts lines, but they do have plans for more makeup down the road. Keep your eye out BodyFacts, CheekFacts, EyeFacts, HairFacts and SkinFacts.
Shop
You can purchase the LipFacts products directly at the
FaceFacts website
.
Giveaway
Two (2) winners!
First prize winner will receive two LipFacts lipsticks and two LipFacts lipliners
Second prize winner will receive one LipFacts lipstick and one LipFacts lipliner
Mandatory Entry
Visit
FaceFacts
and tell me which color lipstick and lipliner you would choose if you won.
Extra Entries
- Follow me on Google or subscribe to my RSS feed
- Subscribe via e-mail. Your email must validate or it will not count.
- Add my Green Mama's Pad button to your sidebar or add Green Mama's Pad to your blogroll. Leave your blog link.
- Follow
@GreenMamasPad
on Twitter and and tweet this giveaway. You must have at least 50 followers and include a link to this post. You can tweet once daily. Leave link to tweet in comment.
- Add my Green Holiday Gift Guide button to your blog. This gives you 2 entries so leave 2 comments.
- Stumble this
post
and comment with your ID.
- Stumble one of my non-giveaway posts and tell me which one.
- Become a fan of
Green Mama's Pad
on Facebook.
- Become a fan of
FaceFacts
on Facebook.
This giveaway is open to US Residents 18+ only and will end on Wednesday, December 30th at 11:59pm EST. One winner will be chosen at random using Random.org and will be posted on the Winner's Announcement Page. Winner has 48 hours to claim his/her prize otherwise a new winner will be picked. You must leave your e-mail address in all of your comment(s) so I can contact you. I will not share your e-mail address with anyone, it will strictly be used to notify you if you win. Good luck!
Please note that the opinions and views expressed in this review are my own and based on my personal experience with the product. You may encounter a different experience with this than I did. FaceFacts provided me with an item for review and is providing an item for the giveaway.