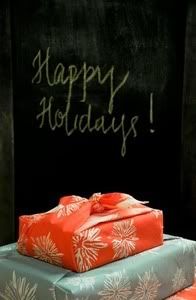 The one thing I dislike about the holidays is all the waste created by wrapping paper. I don't want to skip wrapping because the kids love tearing the presents open Christmas morning. Last year I thought I found a good thing when I bought wrapping paper labeled as "recyclable". Just to be safe I called the garbage company to ask if I could put wrapping paper in our bin and I was told no. Boo. The best solution, I think, is to invest in some reusable wrap like fabric wraps.

Chewing The Cud has a line of reusable fabric wrap that are hand printed on 100% organic cotton using soy-based inks. There are a variety of styles to choose from: Give Cheer (shown left and below), Give Joy, Give Luck, Give Wisdom and Give Love. I was sent one Give Cheer wrap in Persimmon to try out.

Now I have to say that I am HORRIBLE at tying bows and such. Luckily, the fabric wrap came with an easy instruction sheet to show me how to tie the fabric. Mine still does not look at professional as the picture above, but i think it looks pretty cute! I would love to have a Christmas tree with tons of fabric wrapped presents underneath it. It would be so pretty! OK, so here are the steps I took and my final result.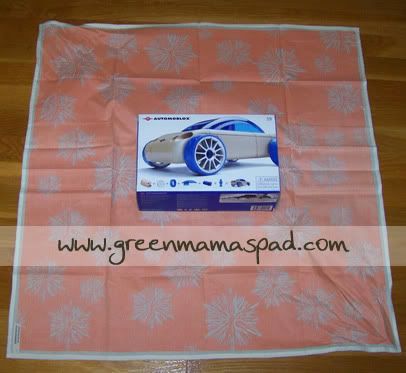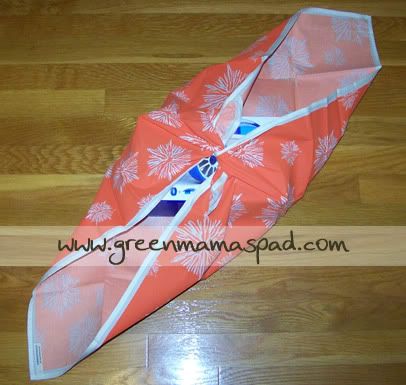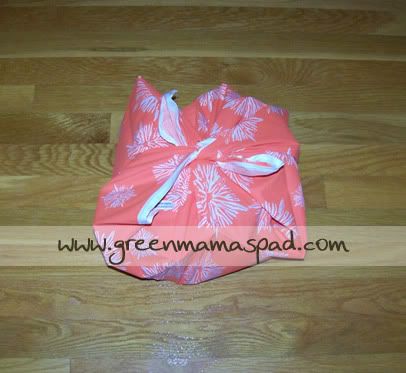 With a little practice I am sure I will get better. But even though it is not perfect, I still love the way it looks. And more importantly, it can be reused countless times!
Shop
You can purchase these fabric wraps for $10.00 each at
ChewingTheCud.com